The guiding questions for the panel discussion were: How can we enable creative practices that engage publics with sea health? What conditions do we need to build ocean literacy, resilience and a more than human-centric mindset. Which methods help activate people to address the marine challenges of a climate crisis world? 🐕
Contributors included: 
All of the panel's presentations were combined by a theme exploring ways to support and nurture one's own personal relationship with water. Whether it is having a conversation or encounter with the ocean in various ways, reflecting on personal water-related stories and memories, facing one's own emotions related to ecological grief and taking action, or extending self- and human-centred views to exploring flooding from the river's perspective.
Such a personal and intimate encounter with water can take place by providing it with a judgment-free environment and space where one can turn inward and become sensitive to listen to oneself and the experience arising, but also observe situations from the perspective of otherness.
An experiential moment with water, be it in a workshop, tarot table or outdoors on the beaches, gives at its best far-reaching internal encouragement to redirect personal as well as collective thoughts forward, into action and new ideas, away from passivity and being stuck. The practices presented in the panel are all examples of how creative practices can be used to capture and surface people's inner, deeper experiences, emotions and memories in a supportive, sensitive and subtle way. Something that seems significant and needs attention when considering ways to transition from being aware ​​to taking initiative.
Reflections from the presentations:
Prof. Adriene Jenik, Arizona State University, ECOtarot deck 🐚
Adriene raises a question that surely every creative actor, researcher, and citizen can also ask themselves deep down; What is needed from me at this time?
This question carried her from the university professor's work towards an artistic and self-reflective process that eventually created the ECOtarot deck. The deck combines the centuries-old tradition of tarot card reading, climate science and ecological values, as well as different archetypes, characters from climate drama. The combination creates climate future readings that Adriene has done more than 1,000 in different events and online encounters.
Adriene describes how one central element of the ECOtarot is that during the reading she is truly present to the participant, which she has found to be extremely important alongside the climate future aspects. She has noticed how people are already very aware of the environmental issues, but the emotional side it evokes may be more difficult to deal with. The phenomenon is known as ecological grief.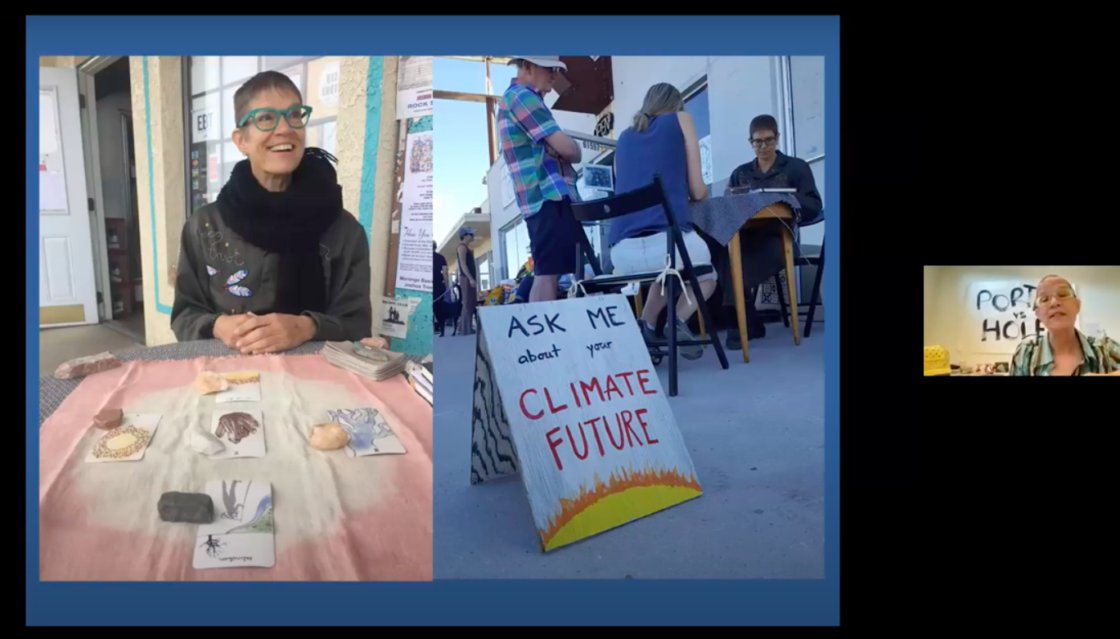 ECOtarot's potential lies precisely in providing the participant with ways to direct their own focus towards a forward-looking and supportive state, away from being stuck in the horror and sadness. With ECOtarot, Adriene helps participants mirror their own situation holistically. By connecting their hearts and spirits to their situation, she helps them navigate in uncertainty, make association, and supports them to take initiatives more boldly.
At their best, these ECOtarot readings evoke far-reaching memories, reflection and support, something that a person carries within themselves as they follow and carry out their own path in the midst of changes in the world.
Sam Shamsher and Pete Fung, Ocean Confessional 🦋
Ocean Confessional is a combination of installation and participatory practice that allows Sam and Pete to invite people to look at the world in a different way, in this case, to discuss and share their stories and experiences with the ocean. Experimental and iterative design approach was used as a way to shift how to approach the problem and how to engage with others.
At the center of Ocean Confessional are people's personal confessions, which can be, for example, unvoiced feelings and emotions, positive experiences or self-reflection on one's own actions. Present in these conversations are only the person making the confession as well as the ocean acting as confessor. Ocean Confessional thus allows people to face their own inner thoughts, contradictions, experiences, memories and feelings in a judgment-free way. While such creative practice is based on private and intimate moments with the ocean, Sam and Pete have curated exhibitions on the written confessions and thereby sparked a wider public debate and reflection on what we can do for our seas together.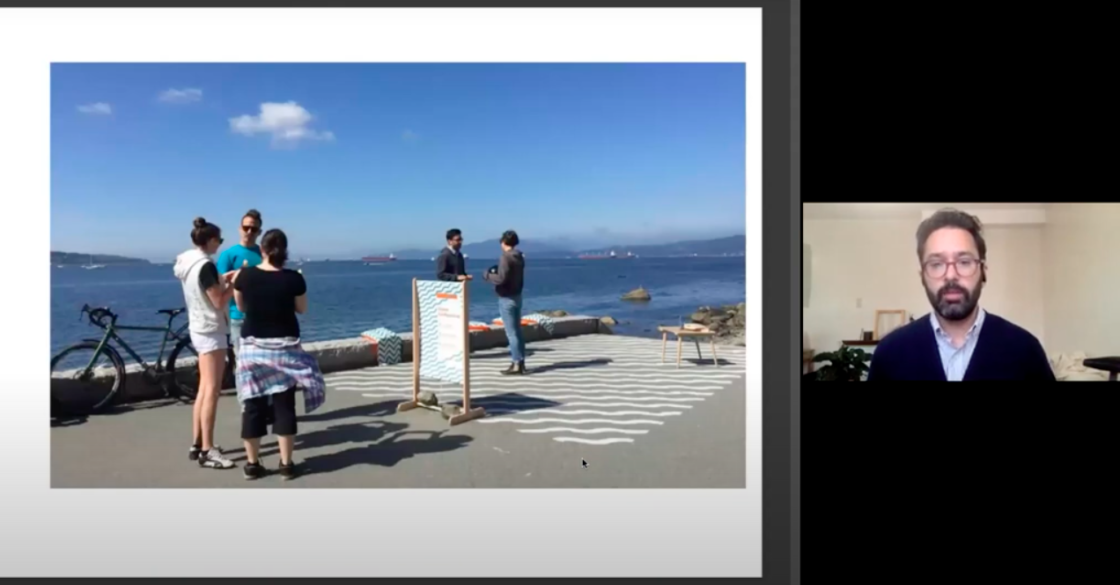 Such design processes are always a mutual learning journeys in many ways. During the Ocean Confessional process, Sam and Pete recognised how they themselves have become more aware of the state of the seas and the ecological problems. At the same time, they have gained knowledge on how to facilitate creative practices that are able to surface people's inner, deeper experiences, emotions and memories in a supportive, sensitive and subtle way.
In projects like Ocean Confessional, creative practices can be seen as ways to break through hesitancy of engaging with something. They have the potential of bringing people closer to issues and offer ways to experiment with how to express matters that people are struggling with.
Gary Markle, PhD (cand.), Selkie Skin 🐙
Selkie skin – towards a full-sensory philosophy of care, is an artistic process to which Gary has drawn inspiration from his own personal stories. Combining his experiences of being his mother's caregiver, his experiences in the field of fashion design, and the mythical story of Selkie creatures, Gary went through a journey where he explored his own background and practices. He discovered how all these experiences were connected by a common thread – the theme of transformation. More specifically, transformation into something else that involves reflection on identities and the relationship between oneself and others.
Selkie is a mythical creature, a half human and a half seal, merged into a one form. It is a story of a being who is never content and always searching, forced into a role it did not want to have. Gary reflects how Selkie creatures shed their skins in search of their own identity in the same way that people carry different skins, clothes to strengthen or transform their own identity. Shedding the old skin creates a space where a person is vulnerable. It is a state of being where some of yourself is left behind and, on the other hand, a new one gets to emerge. In such a process, Gary asks do we make craft or does craft make us?
Taking inspiration from a Selkie, living in both land and the sea, Gary used the skin making practice as a way to flip perspectives and explore the idea of a liminal space between elements. This resulted a skin, an outfit made from plastic waste material collected from the sea, which Gary then used as a wearable floating garnet to enter the liminal space of transition.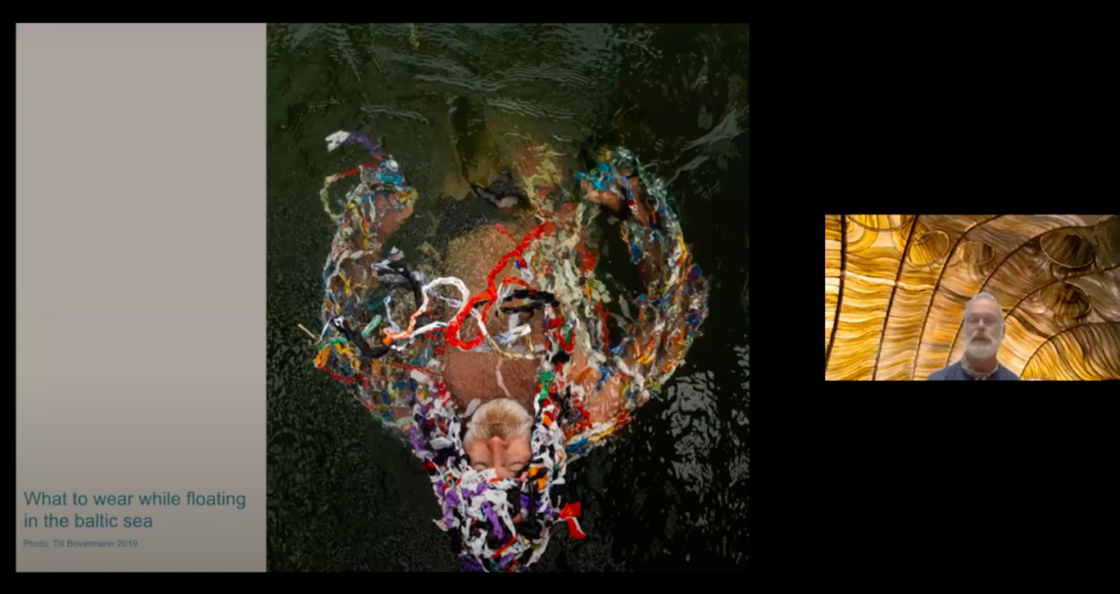 When floating, with ears underwater, we hear differently. When we enter water space, it is a new world which carries us to inner space. Such experience can be a beautiful and peaceful moment of connecting and attuning. In other words, experiences and creative practices like Selkie skin can help us tune in to others and listen to what the other, here the ocean, has to say.
Iryna Zamuruieva, Flood Risk Scotland 🐳
What happens when a non-anthropocentric understanding of water meets flood risk management? In her presentation, Irina touches these questions by introducing a workshop setting, where a group of experts from different fields and disciplines along with other stakeholders came together to consider flooding and its significance and impact on people's lives as well as on nature and environment. At the heart of the workshop were various visual and experiential world making and writing exercises, which were used to shift perceptions and perspectives between more technical aspects to water and more artistic approaches, personal experiences and caring. The workshop offered participants with a safe, non-judgmental environment where they could open up to explore their own relationships to water and flooding. Engaging with creative practices, e.g. by writing poems together, the participants posed new questions such as how to think with water, how to see the value of flooding or how to take the perspective of other species in the ecosystems to see from the whole, the overall picture of flooding.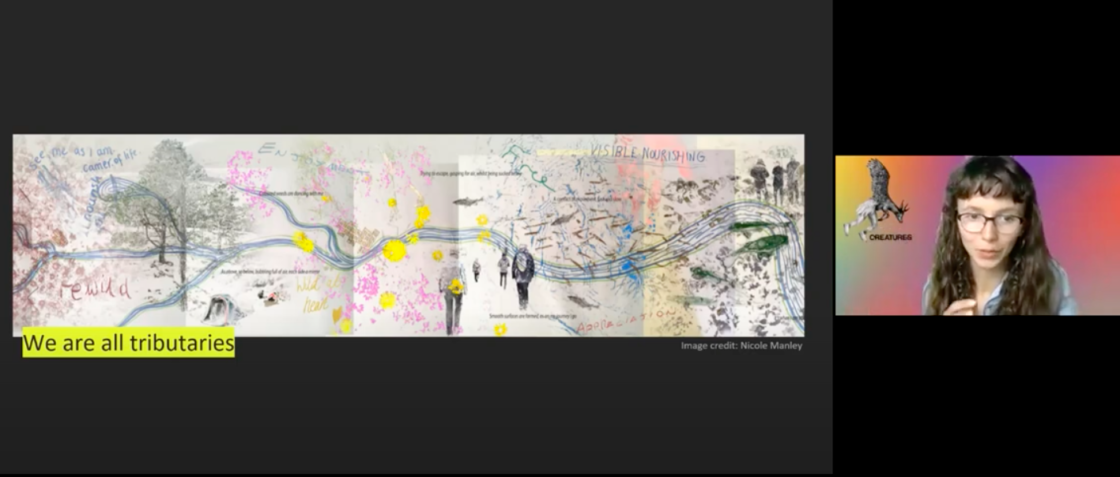 Such exercises led participants to expand their ideas beyond mere flood risk management toward shared dreaming; what would multispecies flourishing look like and feel like. Irina remarks how the language the participants used shifted during their working. Indeed, one the of the roles of creative practices and practitioners is to be a kind of door opener to others. To support them to see the world differently and to prepare the right conditions for transformative encounters, with themselves and others.