In the Baltic Sea Lab we develop creative ways and tools to activate people to promote sea health. The aim is to create a network of individuals who might identify themselves as "sea stewards", individuals who want to care for their local sea environment and might be empowered to do so by creative practice engagements.
Creative practices offer unique ways of engagement to connect communities with their local sea. Often these practices are only enacted once and bound by the artist's or designer's spatial and temporal reach. With the Baltic Sea Lab we adapt and adopt these artistic practices with the aim of extending their reach beyond their clearly authored initial framing. Can a practice seed a range of similar engagements, all adapted to their specific locality and community context?
Since November 2020, the Baltic Sea Lab has been occupying a large retail space of the A-Bloc shopping centre in Otaniemi (Espoo, FIN). The space is hosting a multi-sensory seaweed structure named Hidaka Ohmu, designed by Julia Lohmann and the Department of Seaweed for the World Economic Forum in 2020. The pavilion is made of Japanese kelp, stretched onto a frame of rattan and birch plywood. The Ohmu facilitates conversations and alliances by bringing the sea, its materiality, texture and scents into a human-made environment. Artists and researchers have been working inside and around the Ohmu and inviting others inside for one-to-one dialogues (respecting Covid-19 restrictions).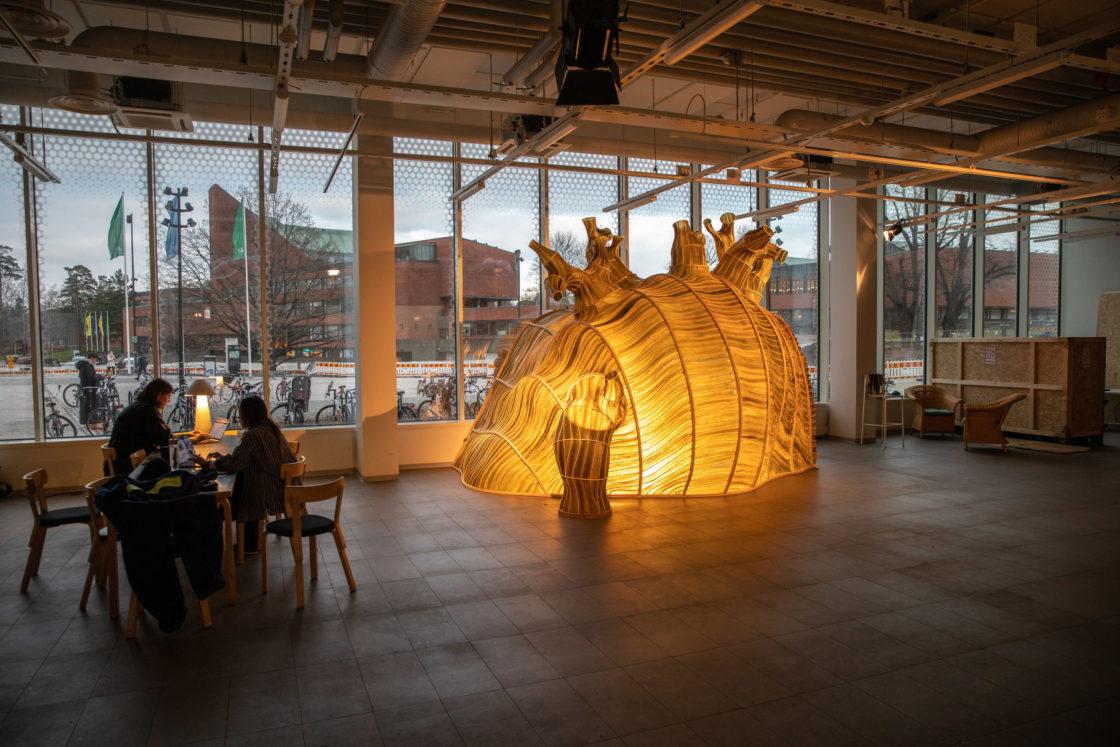 In this first iteration of the Lab we delved deep into the concept of ocean literacy and connected with local partners like the John Nurmisen Foundation and Hanaholmen to better understand the needs of the local sea. Alongside this we had conversations with artists and designers about their ways of engaging communities with the local environment. The goals were to identify the topics that need to be addressed from a scientific point of view and, alongside it, to understand how creative practices create engagements with individuals and communities. These insightful conversations prompted reflections on the challenges of scaling and reproducing artistic practices and on the nature of an effective engagement.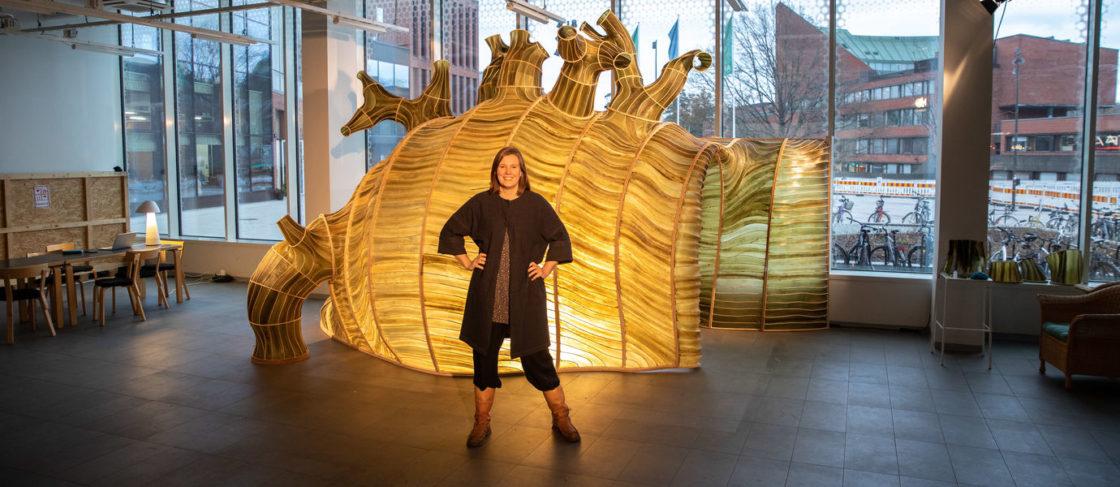 We observed three interwoven and recurring topics that became the backbone through which we understand how creative practices engage a community with ocean literacy: Knowledge (awareness of ecological and cultural issues), Care (empathy, emotional and embodied connection) and Action (active participation, agency).
The second phase of the project will focus on prototyping a toolkit of creative practices and gathering the first group of "sea stewards". The toolkit is being created in collaboration with Adriene Jenik (ECOtarot), Pete Fung and Samein Shamsher (Ocean Confessional) and Gary Markle (Selkie), whose projects are being adapted and adopted by the Baltic Sea Lab.