Yarmouth Springs Eternal is a community arts, walking and nature project instigated and led by community artist Genevieve Rudd. The project celebrates and connects with everyday or overlooked aspects of the natural world, while recognising the inequality of access to green and natural spaces. It challenges definitions of 'nature', emphasising that 'nature' is not just pretty pastoral landscapes requiring walking boots and a car to access, it is the stuff living all around us. Great Yarmouth's streets, buildings, places and culture are central to the project. The project emphasises the perspectives of individuals with lived experiences of homelessness and migration as well as loneliness, mental health challenges and addiction, and brings them into conversations about 'nature'. Over the two years of its existence, the project involved a range of creative community practices including writing, drawing, photography, sensory walking activities or fermenting foods and drinks.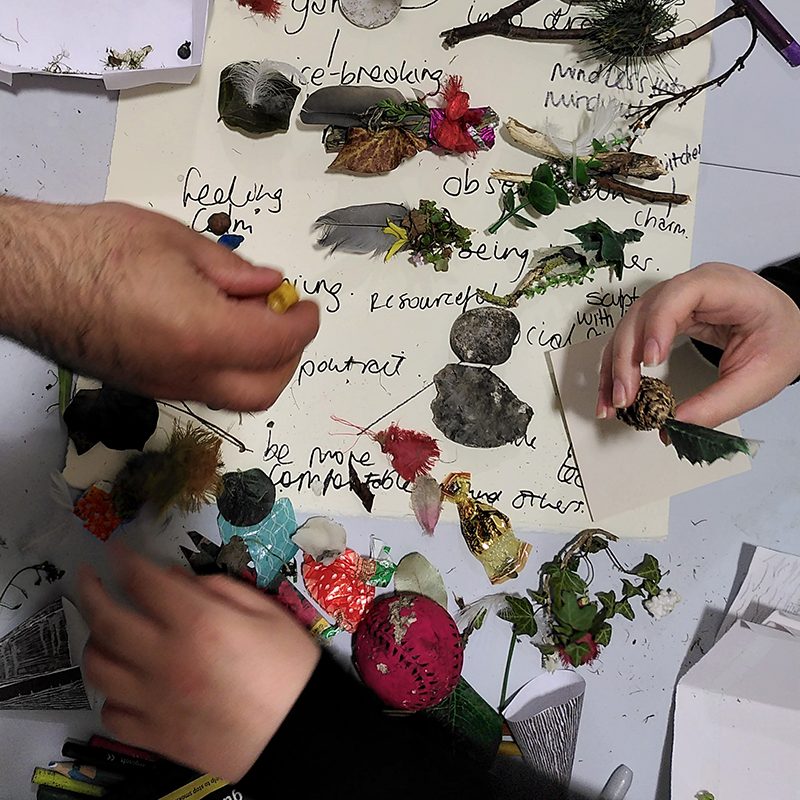 The Yarmouth Springs Eternal project was originally born out of the context of Covid-19, a more-than-human reminder that we are not just people, but vessels for viruses, bacteria and microorganisms to thrive within and on. The project was centred on the season of Spring, while acknowledging that the predictability of the seasons is becoming more disrupted as a result of the climate and ecological emergency.
Yarmouth Springs Eternal came to life along with a community programme of artist-led walks and workshops with adults connected to the Herring House Trust group for single homeless people, and the GYROS group supporting migrants and culturally diverse communities. The workshop programme was accompanied by a six-week public exhibition and various free events including a conference, a series of artist-led walks, a printed pamphlet, and a resource booklet on creative walking activities.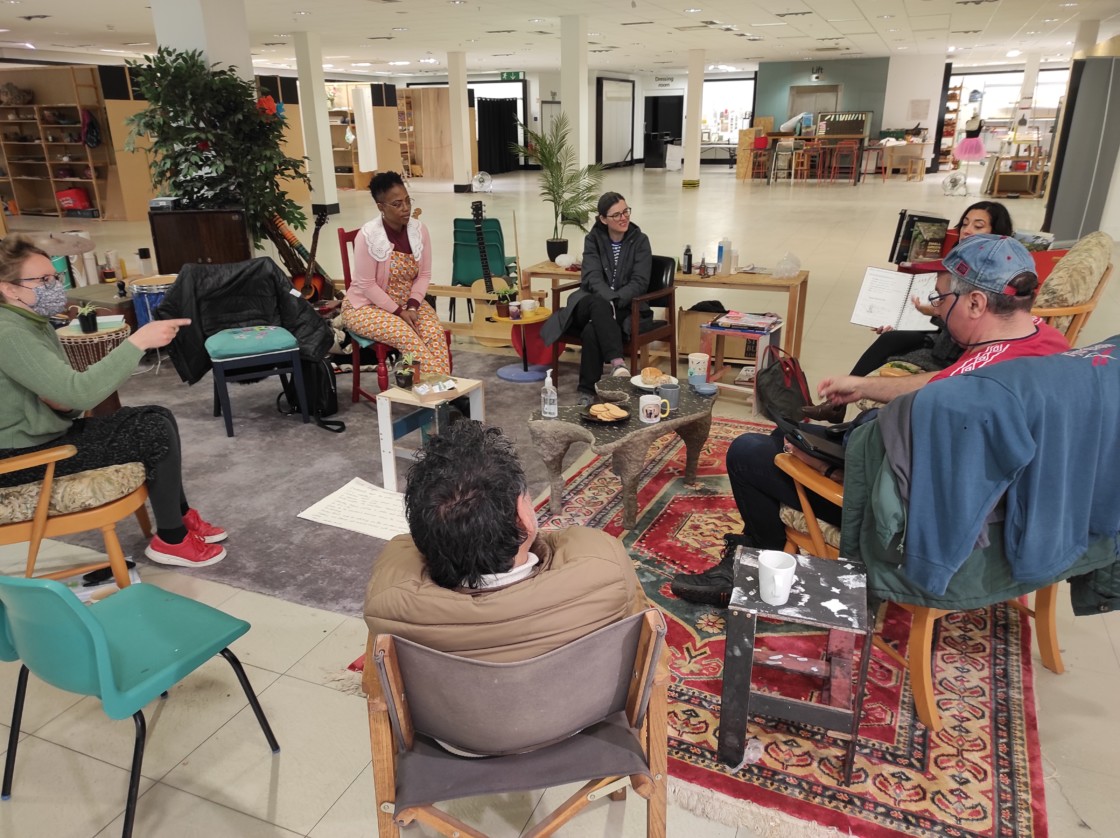 In 2022, supported by CreaTures, the project took a different approach and started focusing more on the internal co-creative processes within the Yarmouth Springs Eternal community and nurturing of its community roots. The project contributors noted that the CreaTures support particularly helped them to deepen the project's themes and engage with people in a more equitable way. A new group of facilitators was developed to build a space for unheard voices and for those with an interrupted connection to 'home' or place. This group grew out of long-term relationships with people connected, and returning to the project, as well as a group of new participants.
In March and April 2022, the group led by Genevieve Rudd and supported by project assistant Moyses Gomes took part in four workshops facilitated by three visiting artists and a visiting ecologist: Ligia Macedo, Holly Sandiford, Jacques Nimki and Tiffany Wallace. The workshops took place in the Great Yarmouth outdoors and in PRIMEYARC – an arts space, gallery and affordable art studios located in an ex-department store in a shopping centre.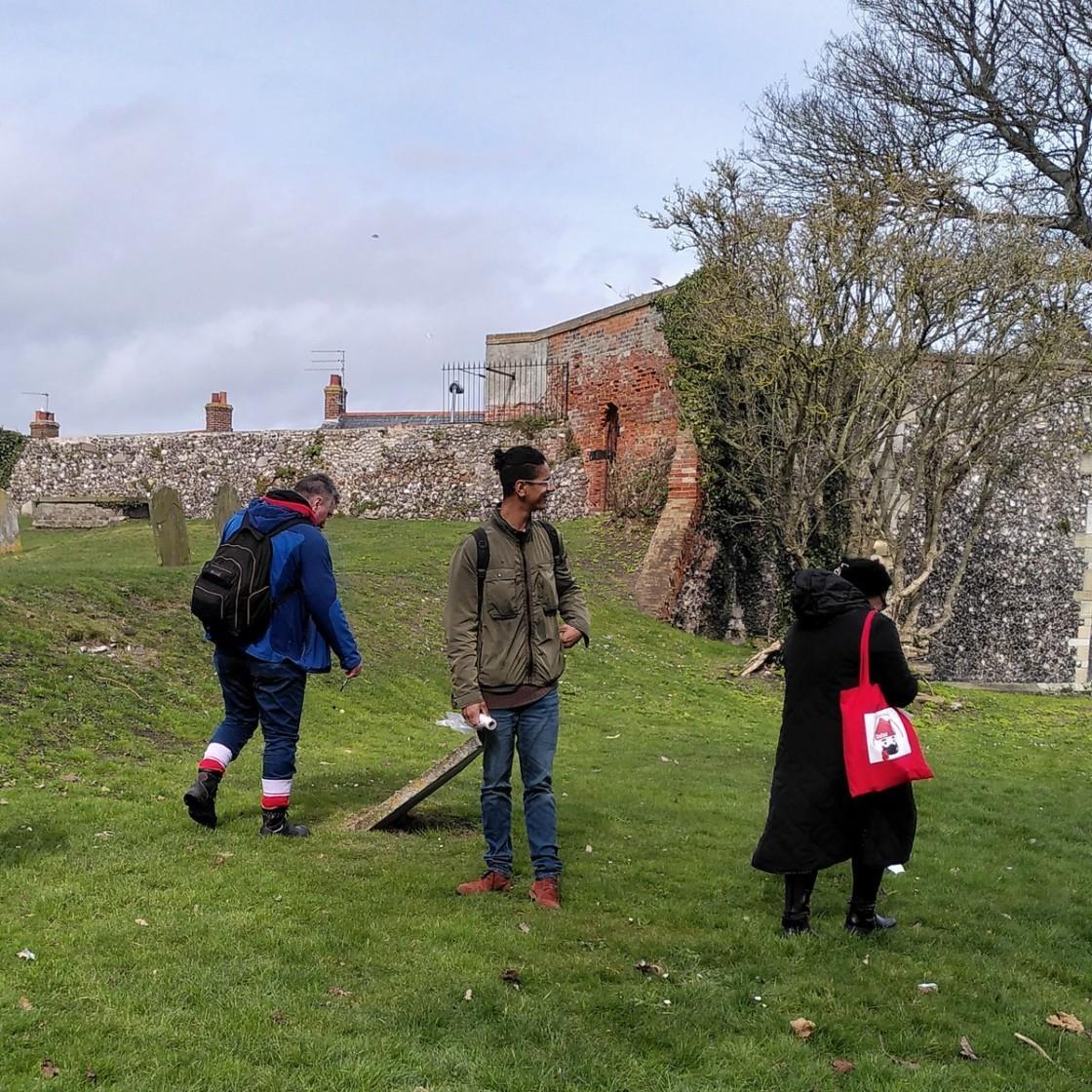 Each of the workshops included an outdoors walk around the local neighbourhood and engaged participants – members of the community with lived experience of homelessness, migration, isolation and mental ill health – through questions about 'nature' and what it means to them. The goal was to explore tensions between internal and external perspectives on natural worlds: how are our inner landscapes informed by external environments, what emotions and meanings do we attach to 'nature'? The visiting practitioners brought in their own perspectives on engaging with the natural world through arts, science and well-being approaches.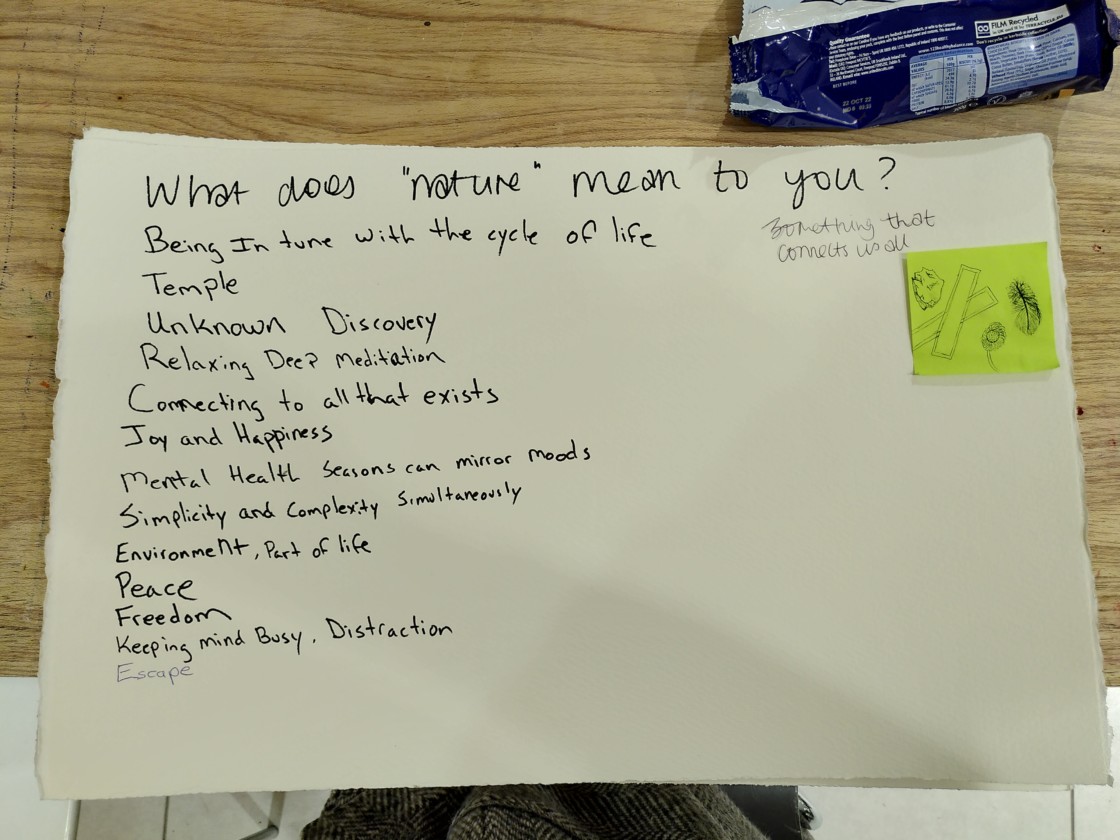 Following the workshops, the Yarmouth Springs Eternal community participants were then supported (commissioned and paid or provided with vouchers as a reasonable expense, if accessing Universal Credit) to design and lead their own events for the public that were organised during the Creativity and Wellbeing Week in Great Yarmouth (May 2022). Four events took place and each of these was free and open-to-all, and leveraged diverse creative and walking practices to highlight the many aspects of the Great Yarmouth springtime and its 'nature'.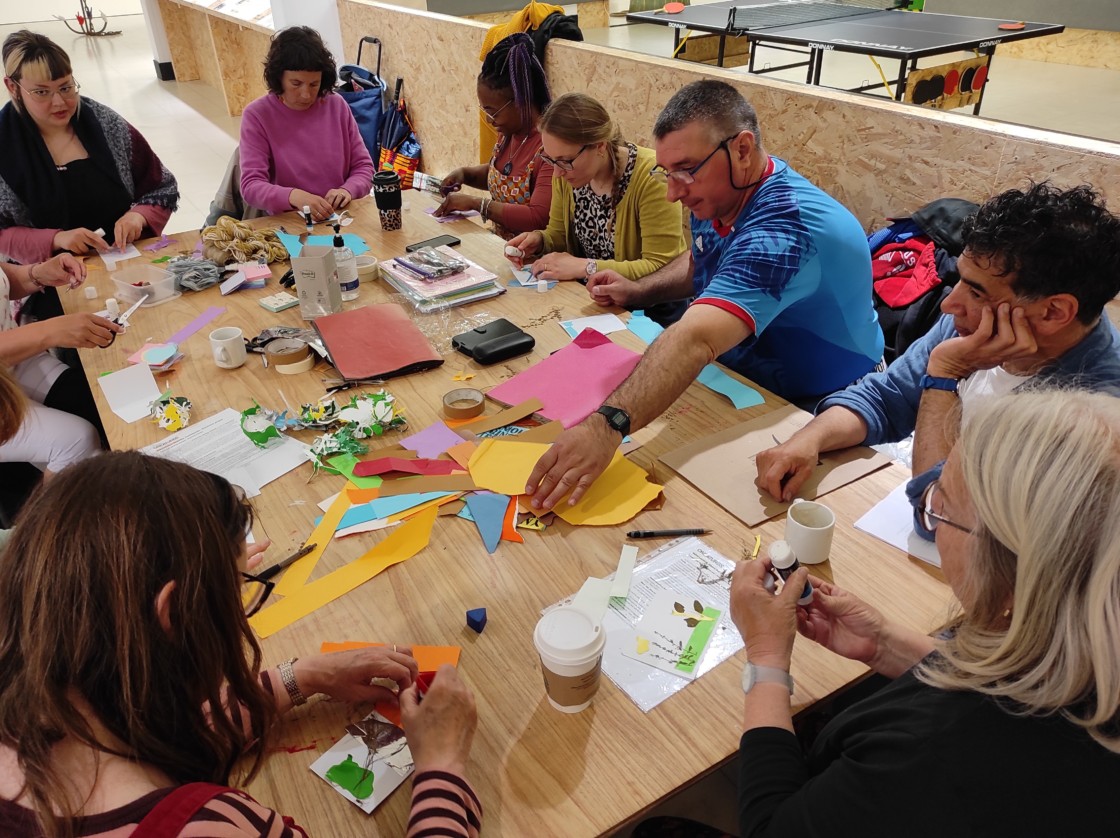 The event's activities involved slow conscious walking and breathing to notice various patterns in the local environment, mindful eating, collective writing of poems, music appreciation as well as the drawing of diverse shapes and forms to capture participants' sensory experiences throughout. The group also engaged in ritualistic exercises of 'making-sharing-offering' at the local cemetery, and collected multi-lingual words of noticed feelings and objects in Portuguese, Spanish, Romanian, Hungarian, Afrikaans and English. This exercise helped to capture and reflect on the cultural differences present in the group: for example, Ligia Macedo noted that in her home country of Portugal, cemeteries are serious and sacred spaces to honour the dead, so she was surprised to see that, in Great Yarmouth, people have picnics in the cemetery.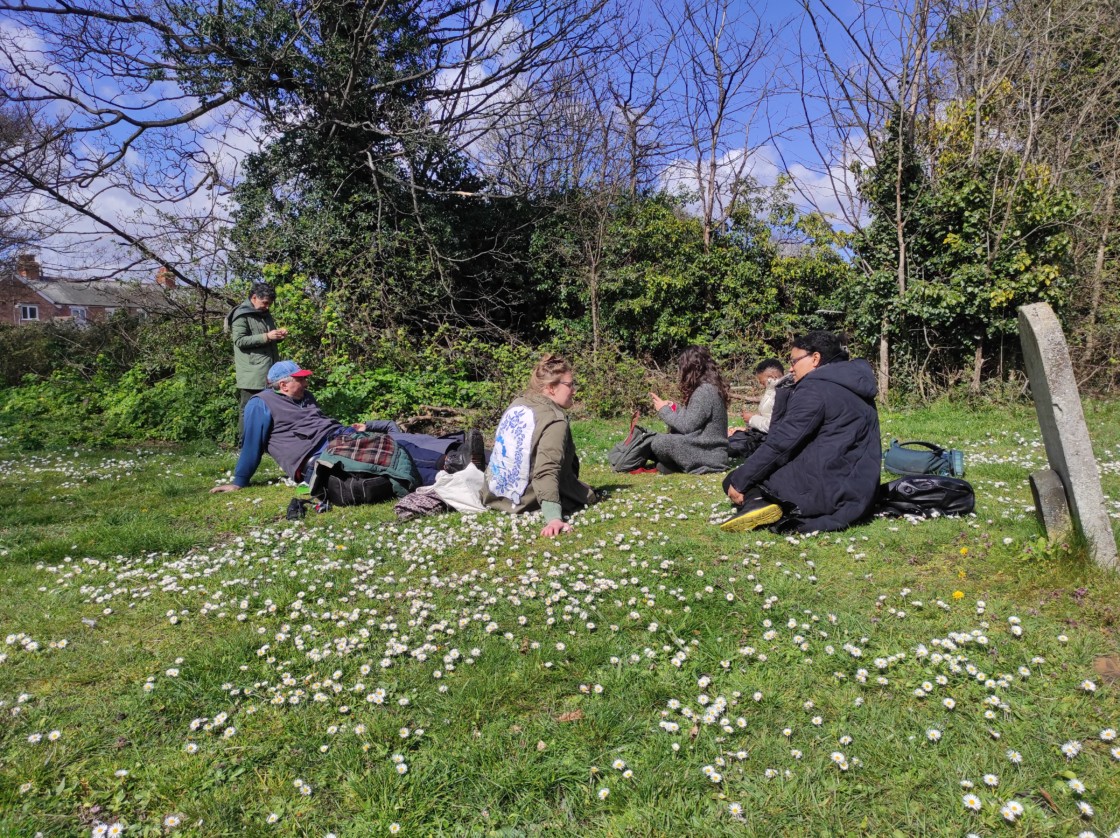 These events followed a particular rhythm; opening and closing each session with reflective conversations, which were noted down and recorded. A common thread throughout all events was the link between the natural environment, health and wellbeing: the group often spoke about connecting with 'nature' as a self-nurturing act, mentioning that it helped them feel calm or energised. Some participants mentioned their concerns about the climate and worries about the future, sharing their observations of plants flowering early or at unexpected times and feelings of anxiety about the depletion of resources.
The group did not come up with a universal definition of what 'nature' means to them, highlighting that such definitions might be too exclusionary. Instead, they explored the differences between the local gardened and wild spaces; between valued and neglected areas, focusing on how these distinctions mirror particular local, social conditions. The relationship between participants' life stories and various self-seeded plants noticed around the town became a symbol of their respect for diverse journeys that we might end up taking as part of our livelihood.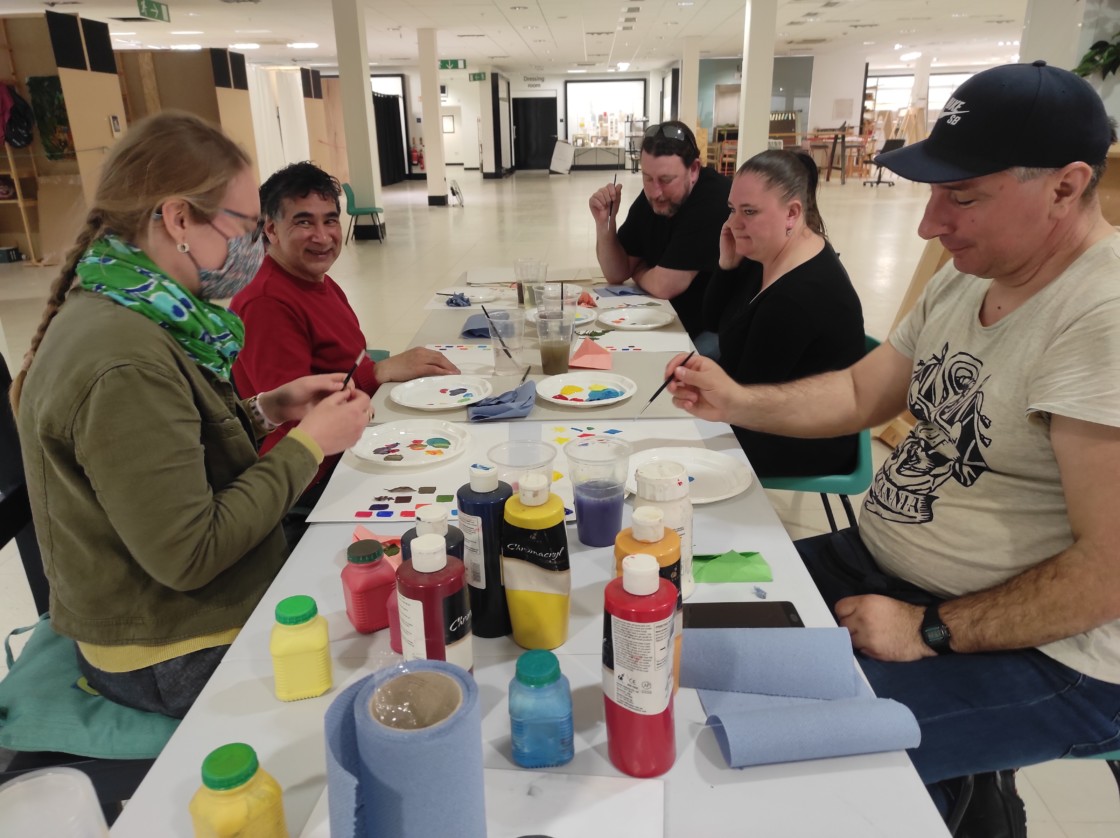 At their closing session and a celebratory picnic in June 2022, the group had a conversation about vulnerability and how it can bear a powerful energy but also many uncertainties. While being vulnerable and without necessary resources and support, it can feel very exposing to step up in a social or another hierarchical system; and many members appreciated the support provided by the Yarmouth Springs Eternal project that enabled them to transition from their involvement as participants to become facilitators. The shifting of roles and hierarchies was key to the overall project dynamics: most of the contributors, including Genevieve, were involved both as participants and facilitators, sometimes even simultaneously. 
Holly Sandiford, one of the visiting artists, reflected on the deliberately loose and fluid project structure:
"As artists we often talk about 'co-production' and 'collaboration' as a way of working, but that's often offered up as a limited choice by the facilitators. Yarmouth Springs Eternal is not just co-production, this is simply production! It is brave and bold, and puts people at the core of the project."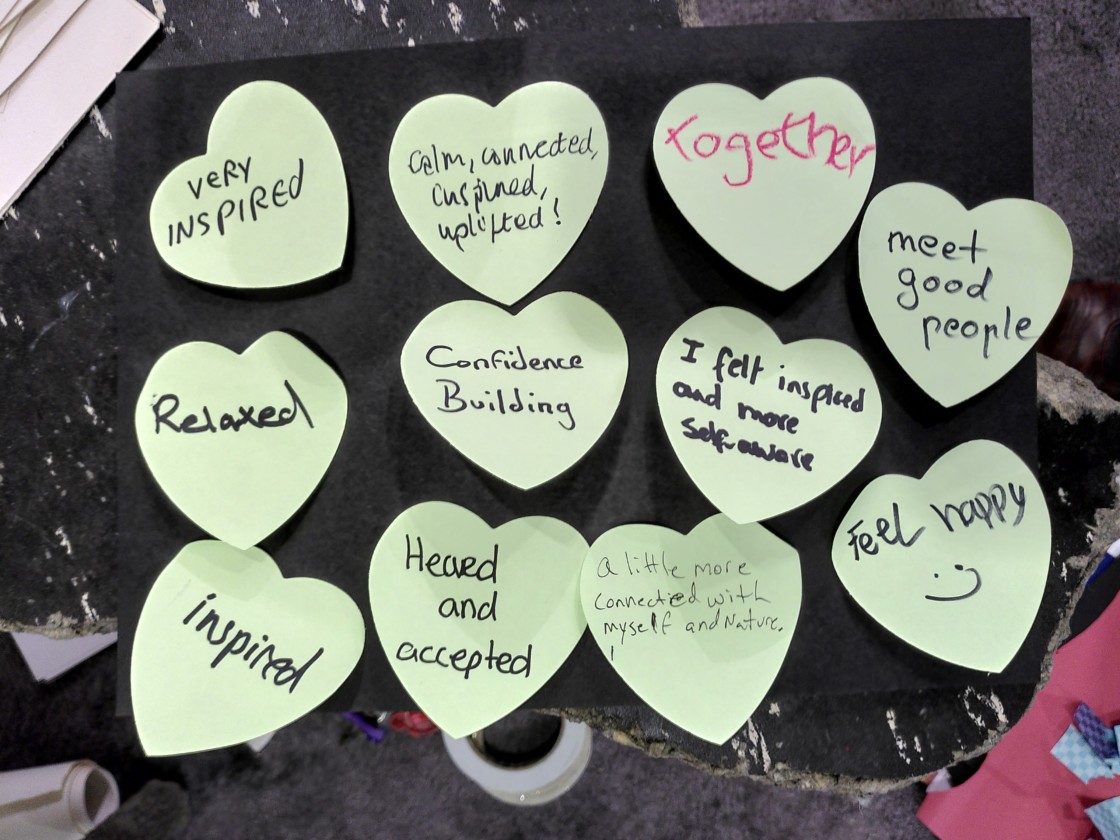 The project has helped to uncover what living and working in Great Yarmouth might mean, to whom. It also enabled reflection upon the symbolism of plants growing in neglected, overlooked, bleak places, and how such places can become beautiful sites of abundant life. The Yarmouth Spring Eternal experience has been turned into a short film produced by the filmmaker Becky Demmen of Supporting Your Art:
Leading Yarmouth Springs Eternal is also tightly connected to Genevieve's perspective of living and working in her hometown and her own lived experience of episodes of severe mental illness. From these experiences, she has drawn the strength and compassion to support the development of others facing similar challenges, acknowledging that it is a complex area of work, where generosity could push boundaries and challenge identities while, at the same time, being rich and rewarding. As pointed out by Genevieve, resources are really key and this work cannot just appear overnight, it takes a lot of time and care.
In June – July 2022, documentation of The Yarmouth Springs Eternal project was exhibited at the CreaTures Festival in Seville, Spain, along with other CreaTures experimental productions.