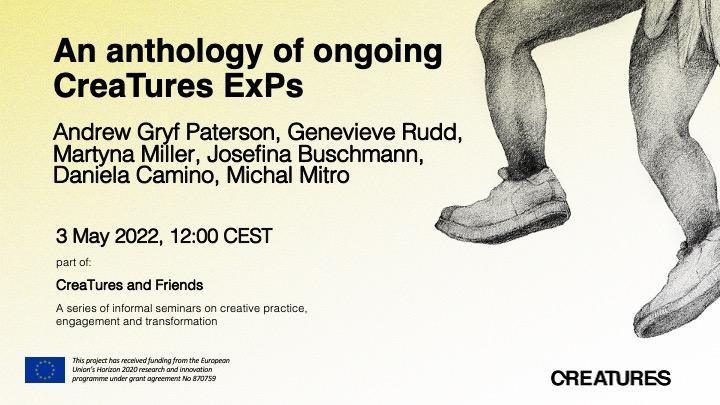 🌿 The eighteenth CreaTures and Friends seminar will take place on
May 3rd, 2022, 12:00-13:00 CEST 🌿
Through a series of open calls, CreaTures has commissioned five new Experimental Productions. The aim of these calls was to enable smaller organisations and/or individuals to participate in the co-creative activities of the research project, by contributing site-specific, small scale projects. This seminar is an opportunity for the creative practitioners that have recently joined the CreaTures family to present their practice and ongoing work.
Pixelache – Andrew Gryf Paterson
Pixelache Helsinki is a Finland-based creative association on emerging creative practices with almost 20 years of activity, engaging issues in electronic arts and subcultures, eco-social and technological transformation, with a dynamic community that has produced an annual festival with various formats. This presentation will share our attempts this Spring to consider Pixelache Helsinki's parallel organisational transformations, engaging with that which remains in our office, using memory recall and narratives towards an audio fanzine.
Yarmouth Springs Eternal project – Genevieve Rudd
Yarmouth Springs Eternal is a community arts, walking and nature project, instigated and led by community artist Genevieve Rudd. The project celebrates and connects with everyday or overlooked aspects of the natural world, whilst recognising the inequality of access to natural spaces, and challenging definitions of 'nature'
Visual trace to establish relation – View from the Window and DOMIE: Martyna Miller
Project View from the Window is a participatory process involving neighbors whose windows overlook DOMIE. DOMIE is a ruin, for four years becoming an engaged cultural center. The building looks like a small home in between tall, older tenements around. When photographed from above, due to the unusual shape of the roof, it visually resembles the first photograph ever taken by Nicephore Niepce in Le Gras (France). By playing with this visual connotation, I invite neighbors to evolve the feeling of something dear and beautiful, connected to memories and storytelling, and by this – slowly search for a sense of belonging and caretaking.
The Fallen Clouds – Josefina Buschmann, Daniela Camino
Josefina Buschmann and Daniela Camino will present the ongoing creative process of THE FALLEN CLOUDS, a speculative research-based project that delves into the socio-environmental impacts of digital infrastructures in Chile to break the great myth of cloud computing. The narrative follows a digital cloud searching for its body and origin extended among submarine cables in La Serena, data centers in Santiago, and minerals in the Atacama salt flat. On the journey it becomes entangled with human and more-than-human beings; socio-environmental conflicts; past, present, and future myths.
Open Urban Forest – Michal Mitro
Michal Mitro of ssesi.space will present the practical and conceptual background of the layered artistic research taking place in and about nature-reclaimed community garden in Brno, Czech Republic. Stacks, more-than-human actants, hyperobjects, as well as bees, retired gardeners and bonfires are all on the menu.
---
Participation is open to everyone but registration is required. To join, please fill in your details in the registration form and we will email you the link a day ahead of the seminar.
The seminar will be recorded for archiving and research purposes; by joining the session you consent to the recording. Please read the Participation Information Sheet and Privacy Notice. CreaTures project has received funding from the European Union's Horizon 2020 research and innovation programme under grant agreement No 870759. The content presented represents the views of the authors, and the European Commission has no liability in respect of the content.