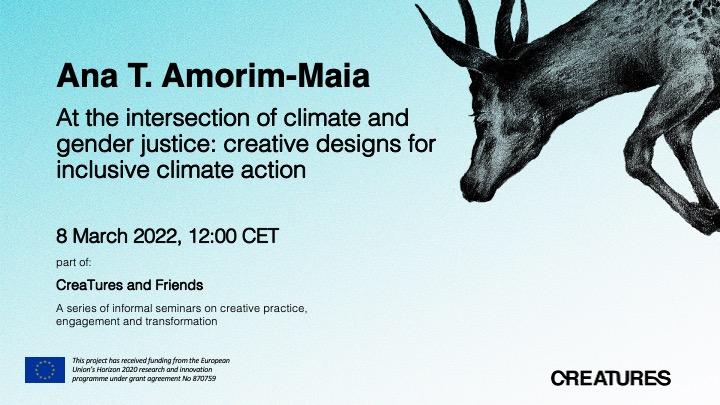 🌿 The fifteenth CreaTures and Friends seminar will take place on
March 8th, 2022, 12:00-13:00 CET 🌿
In this talk, Ana proposes an intersectional pivot in climate action to help understand the interconnected forms of social-environmental injustices that drive vulnerabilities in cities. She presents a new conceptual framework for 'intersectional climate justice' and illustrates it with examples of ongoing projects in Barcelona, which put gender and climate justice at the fore.
On the second half of the seminar, we use these learnings to collectively design a "climate refuge" for our neighborhoods or local communities. Climate refuges are local spaces where vulnerable populations can take shelter during extreme weather events – but they can be much so more than that! Let's collectively unravel their full potential to be truly inclusive, engaging, and transformative spaces in our cities.
Participation is open to everyone but registration is required. To join, please fill in your details in the registration form and we will email you the link a day ahead of the seminar.
The seminar will be recorded for archiving and research purposes; by joining the session you consent to the recording. Please read the Participation Information Sheet and Privacy Notice. CreaTures project has received funding from the European Union's Horizon 2020 research and innovation programme under grant agreement No 870759. The content presented represents the views of the authors, and the European Commission has no liability in respect of the content.