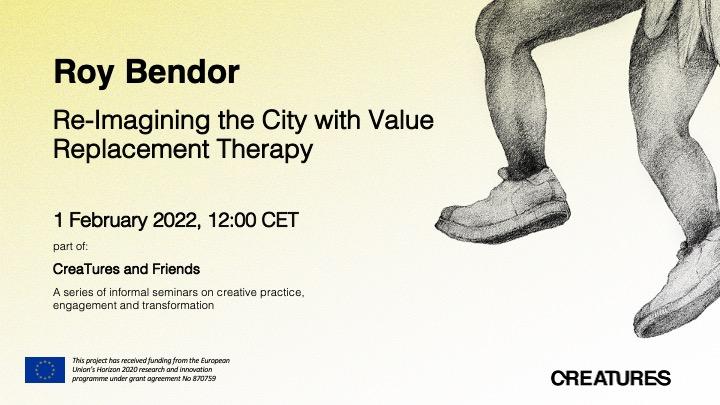 🌿 The fourteenth CreaTures and Friends seminar will take place on
February 1st, 2022, 12:00-13:00 CET 🌿
The future of cities, smart or not, depends on the public's capacity and willingness to stretch their imagination and envision new sociotechnical possibilities. In this session, Roy Bendor, Assistant Professor of Critical Design in Delft University of Technology, will discuss the use of speculative design as a means to disclose the malleability of urban technologies and invite seminar participants to try out an urban futuring exercise called Value Replacement Therapy.
Participation is open to everyone but registration is required. To join, please fill in your details in the registration form and we will email you the link a day ahead of the seminar.
The seminar will be recorded for archiving and research purposes; by joining the session you consent to the recording. Please read the Participation Information Sheet and Privacy Notice. CreaTures project has received funding from the European Union's Horizon 2020 research and innovation programme under grant agreement No 870759. The content presented represents the views of the authors, and the European Commission has no liability in respect of the content.