Reimagining museums for a sustainable future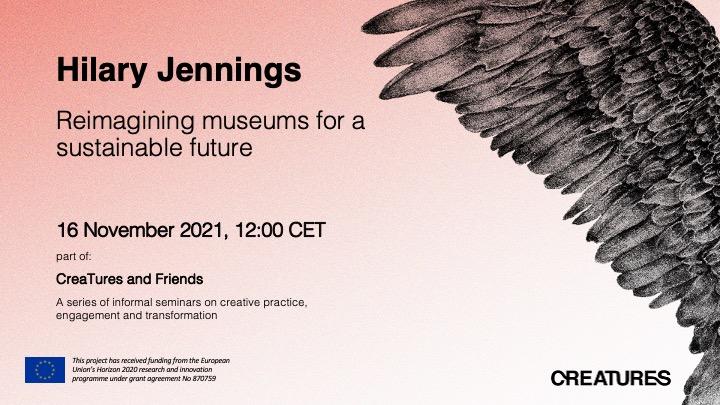 🌿 The twelve CreaTures and Friends seminar will take place on
November 16th, 2021, 12:00-13:00 CET 🌿
Hilary Jennings is Director of the Happy Museum Project. The Happy Museum invites people to think afresh about the role of museums, offering different perspectives and responses and stimulating and supporting change towards its vision: To re-imagine museums for a sustainable future by fostering wellbeing that doesn't cost the earth. In this seminar, Hilary will outline the framing behind Happy Museum and explore responses generated by the wide range of museums in the project's Community of Practice. The session will be an opportunity to discuss the role and potential of museums and other cultural organisations in relation to the wellbeing and sustainability of their communities.
In addition to her work with Happy Museum Hilary works freelance across the arts and cultural sectors with a focus on sustainability, leadership and facilitation. She is an Associate of the Clore Leadership Programme and Extend Leadership Programme and is a steering group member of the Co-Creating Change Network. She is Co-Chair of the Transition Network which supports an international movement of communities coming together to reimagine and rebuild our world.
Participation is open to everyone but registration is required. To join, please fill in your details in the registration form and we will email you the link a day ahead of the seminar.
The seminar will be recorded for archiving and research purposes; by joining the session you consent to the recording. Please read the Participation Information Sheet and Privacy Notice. CreaTures project has received funding from the European Union's Horizon 2020 research and innovation programme under grant agreement No 870759. The content presented represents the views of the authors, and the European Commission has no liability in respect of the content.