Refuge for Resurgence, a multispecies dining experience with animals, birds, plants and fungi, was shown as part of the Biennale Architettura, La Biennale Di Venezia 2021 from 22nd May to 21st November 2021. As part of Superflux's ongoing mission to explore hope through crisis towards a more-than-human future, Venice Biennale visitors were invited to a dinner table around which multiple species metaphorically gather as equals. In response to the Biennale's theme How Will We Live Together? Refuge for Resurgence considered how all forms of life on earth might come together to celebrate their ecological interdependence in a post-Anthropocene world – a symbolic home where all species can prosper with resilience, adaptation, and hope.
Refuge for Resurgence presents a four-meter-long table, hand-made in Didcot (UK) from the wood of a wild Surrey oak tree in collaboration with Gareth Huw Lewis of Classic Watercraft. Placed around the table are fourteen wooden stools, each one carefully customised to suit its intended occupant. As the viewer enters the space, they are beckoned by a bespoke soundscape, a chorus recital of a poem that brings the story of the banquet, and its mythological origin story, powerfully to life.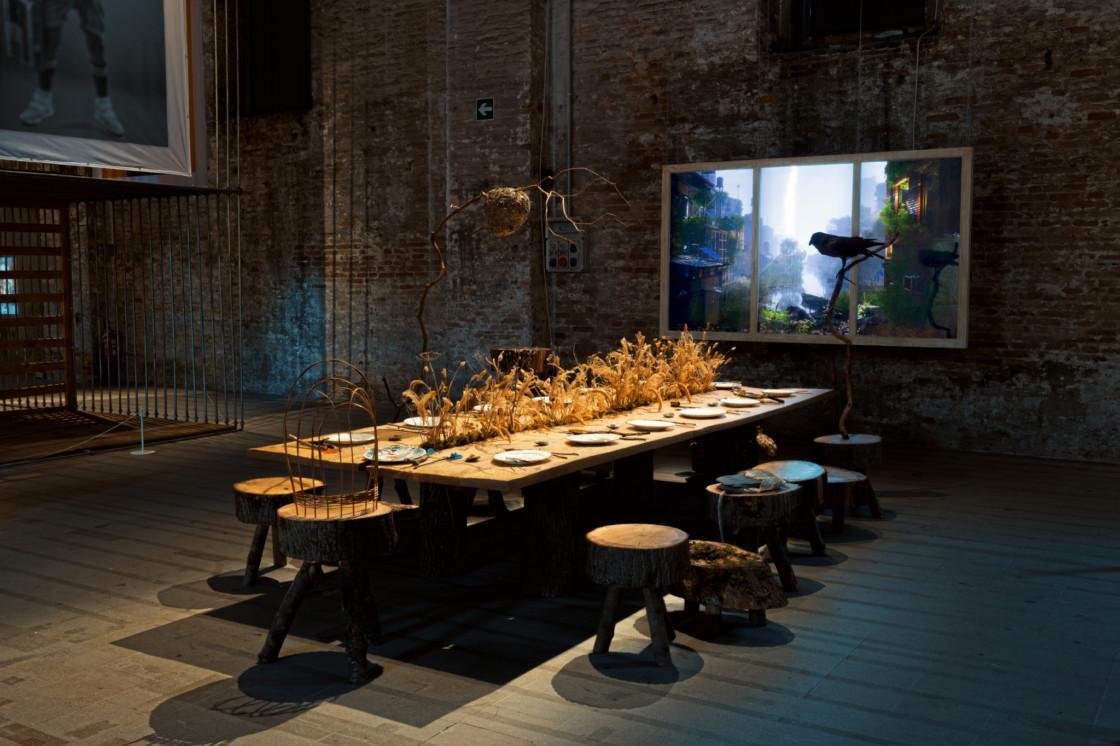 The banquet attendees represent a cross-section of life on a resurgent Earth; inclusive of species that were once domesticated, or might have been considered 'weeds', 'pests' or 'vermin' under human domination, but are now reclaiming their rightful place in the ecological order. Around this table, three humans – man, woman and child – join a fox, rat, wasp, pigeon, cow, wild boar, snake, beaver, wolf, raven and mushroom.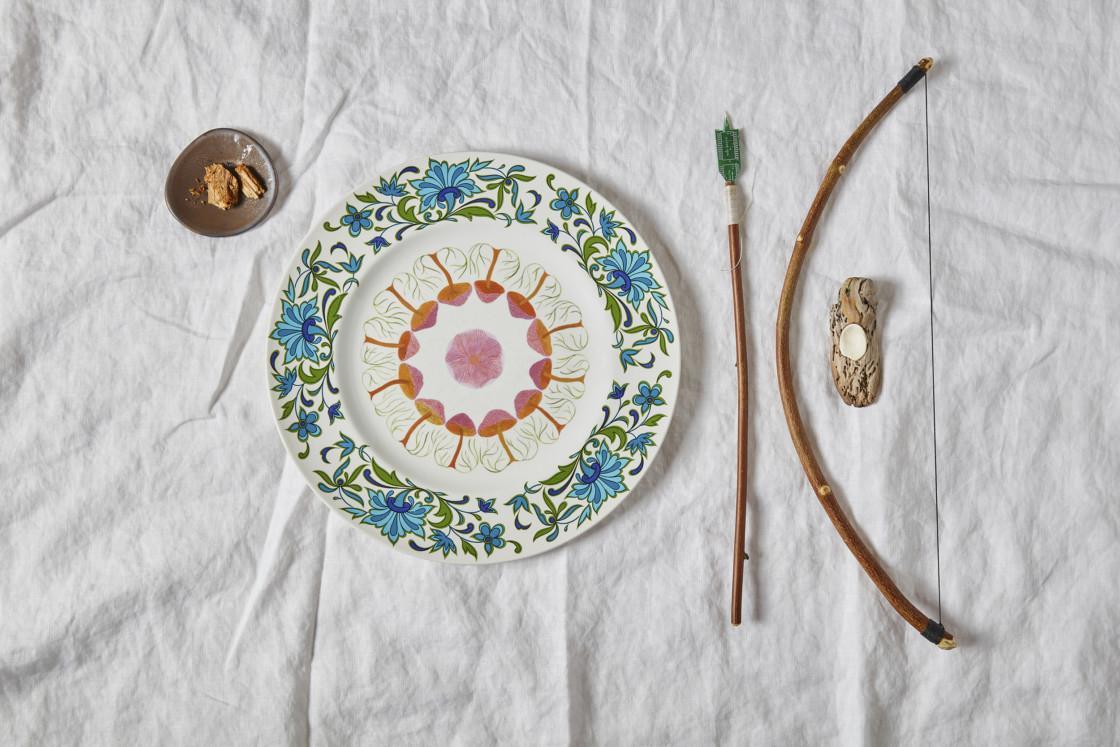 Each creature has a place set at the table, but only the wasp, mushroom and raven (in taxidermied form) physically join the installation. By exploring each place around the table, the viewer can infer the identity of the guests from finely detailed clues on display. These include species-symbolic cutlery, hand-crafted from materials foraged from a former world (avian bones, brake lights, twigs, a rusted circuit board or telephone wire); food offerings carefully catered for each guest; and ceramic plates meticulously illustrated by illustrator Nicola Ferrao with mythopoetic scenes depicting the species protagonists and their narrative journeys, from destruction to resurgence.
"We're drawing on ideas of folklore, mythology, the transformative potential of ritual and ceremony. We want to open up poetic aspects of other worlds that might feel enigmatic – or even magical. This is an invocation and a prayer for a different kind of world."
– Jon Ardern, co-founder, Superflux
The table sits beneath a trio of suspended LCD screens that form a triptych window onto the world outside. Created by designer Sebastien Tiew, the windows reveal a cityscape in the aftermath of catastrophe – streets are flooded, buildings lie in ruins, the urban fabric lies shredded – but the vision is far from dystopian.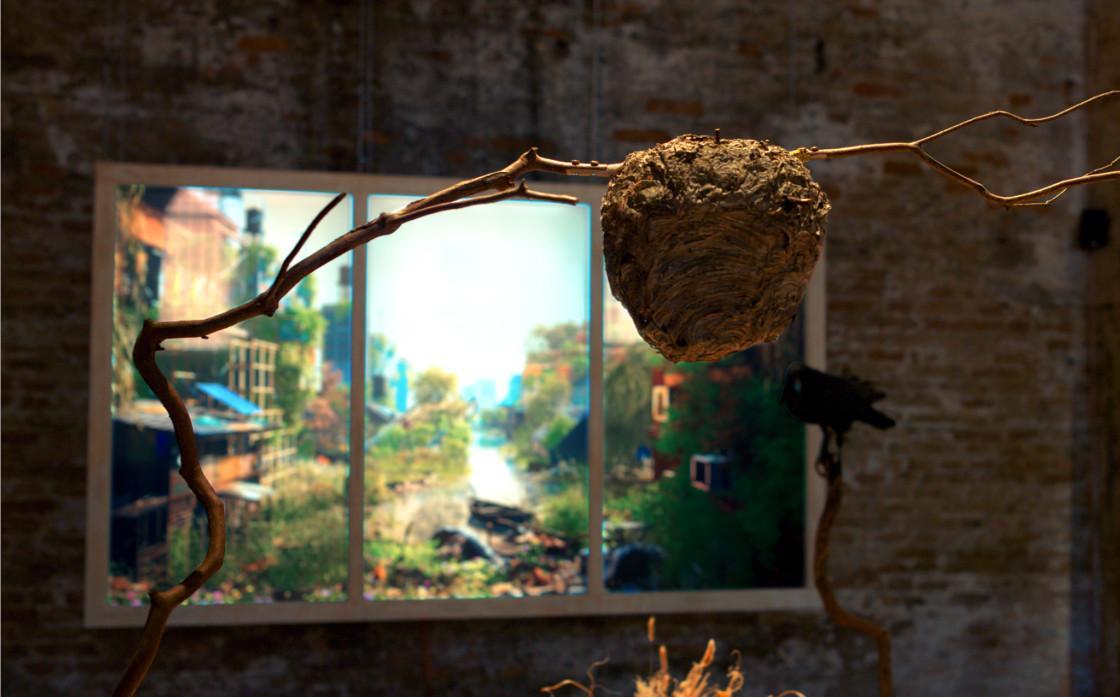 Green plants and trees are creeping in to reclaim the city, and the wildlife that was previously barred from human spaces is finding its way back to the streets and making a new home. From the perspective of the creatures at the banquet, nature is building a new world from the wreckage of the old. Their task is to work together and find their respective places within it.
"Our proposal for a way out of this dilemma is to completely change the way we view ourselves and our relationship with nature. Instead of seeing humans as separate from nature, we need to understand that we are a part of it. By radically changing our attitude toward natural systems and the ecology of our planet, we have the best chance to reverse the damage we've done. How might we – humans and non-humans – truly engage in collaborative living?"
– Anab Jain, co-founder, Superflux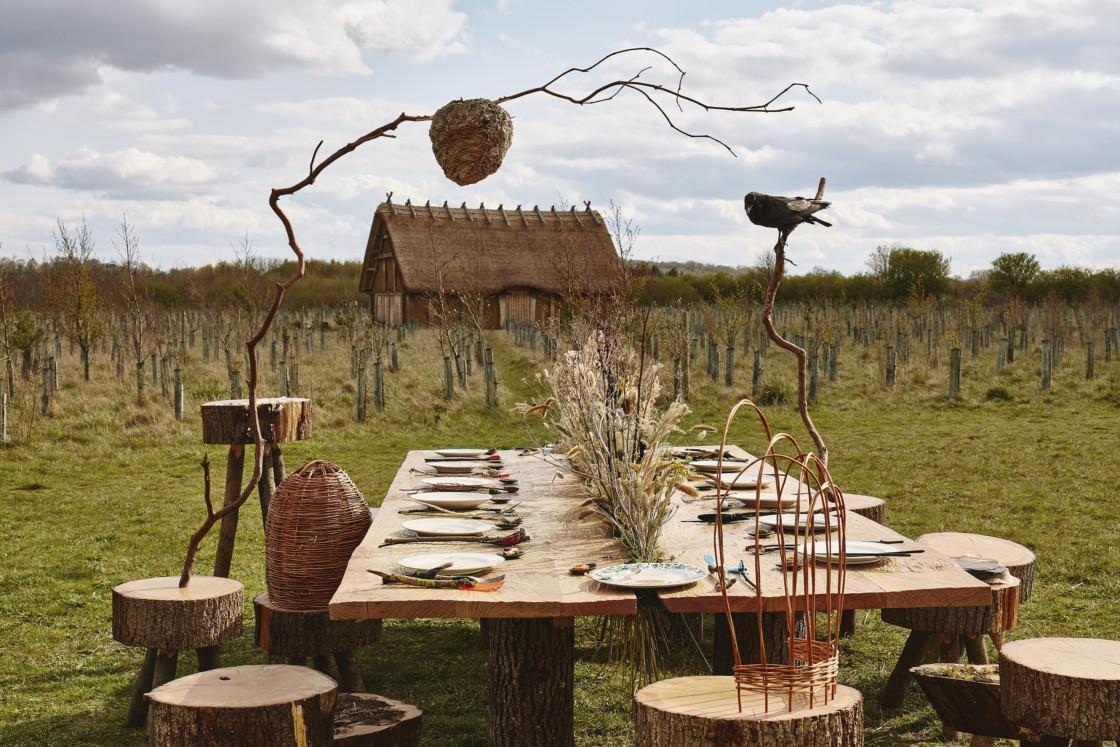 The Refuge for Resurgence installation and conceptual background were captured in a short film released by Superflux in July 2021. The intention here was to give remote viewers an immersive experience akin to being within the exhibition space. The film was showcased at the CreaTures Festival in Seville, Spain (June – July 2022). After its initial showcase at the Venice Architecture Biennale, Refuge for Resurgence installation appeared at the following exhibitions: Subject to Change, Droog Gallery, Amsterdam (February – April 2022), Weather Engines, Onassis Stegi, Athens (April – May 2022) and Our Time on Earth, Barbican Curve Gallery, London (May – August 2022).