The Cyano Automaton is a multidisciplinary project on bacterial, terrestrial, and interplanetary colonization. The co-creative project activities are centered around an interactive bioreactor that cultivates cyanobacteria (Arthrospira platensis) and "gives voice" to this species, helping them to tell a long and multifaceted story – of exploitation, space exploration, and colonialism.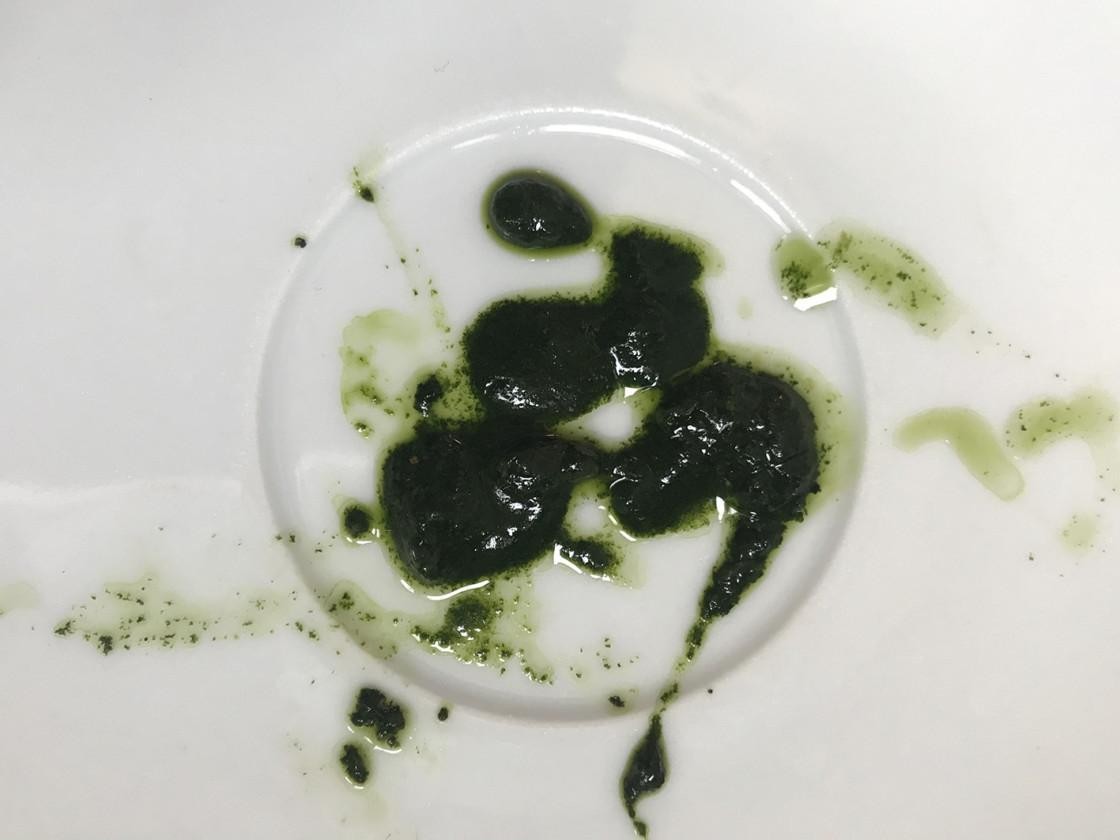 As the first photosynthetic organisms that ever existed, cyanobacteria are responsible for allowing higher life forms to evolve on this planet. The Aztecs called them tecuitlatl and used them as an important part of their diet until the fall of Tenochtitlan, in the 16th century. Cyanobacteria are also known as "blue-green algae", which form mats on the water surface that can produce harmful toxins to humans and aquatic life. We commonly know them as spirulina, which is now produced on a global scale and advertised as a fashionable superfood. Since it's easy to grow and harvest, spirulina is an important element in a space crew's diet. Actually, it is projected to become a nutritious source of food for the first colonizers of Mars.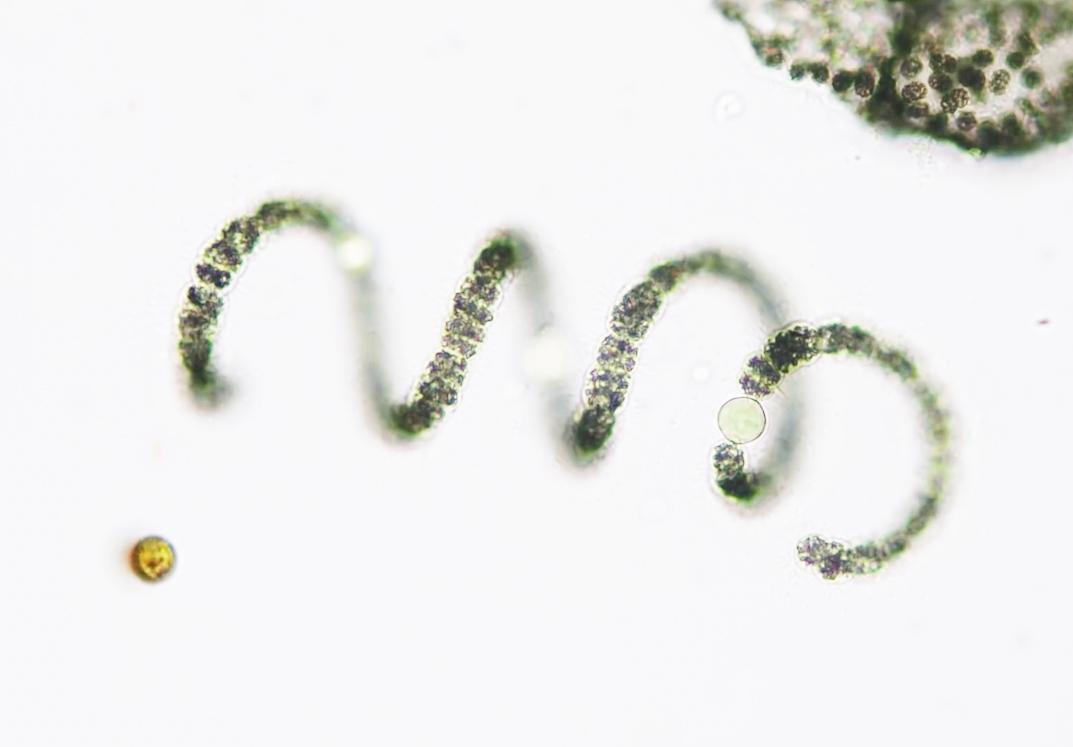 The project author, artist and scientist Aga Pokrywka, in collaboration with the Super Eclectic studio, developed an interactive vessel – a bioreactor – that monitors the growing cyanobacteria's condition. It is programmed to combine this information with data from NASA's yearly budgets, global gold mining and the subsequent production of carbon dioxide. The Cyano Automaton communicates by tweeting various information that shed a light on how these statistics are related to exploitation and colonialism; whether here on Earth, or in outer space.
"Through its life cycles, the cyanobacteria inhabiting the Cyano Automaton give us compelling insights on how these huge numbers are interrelated. They also help us realize that the damage caused by human activities, at a systemic level, cannot be just resolved with personal actions (…) There must be a systemic change."
– Agnieszka Pokrywka (2021)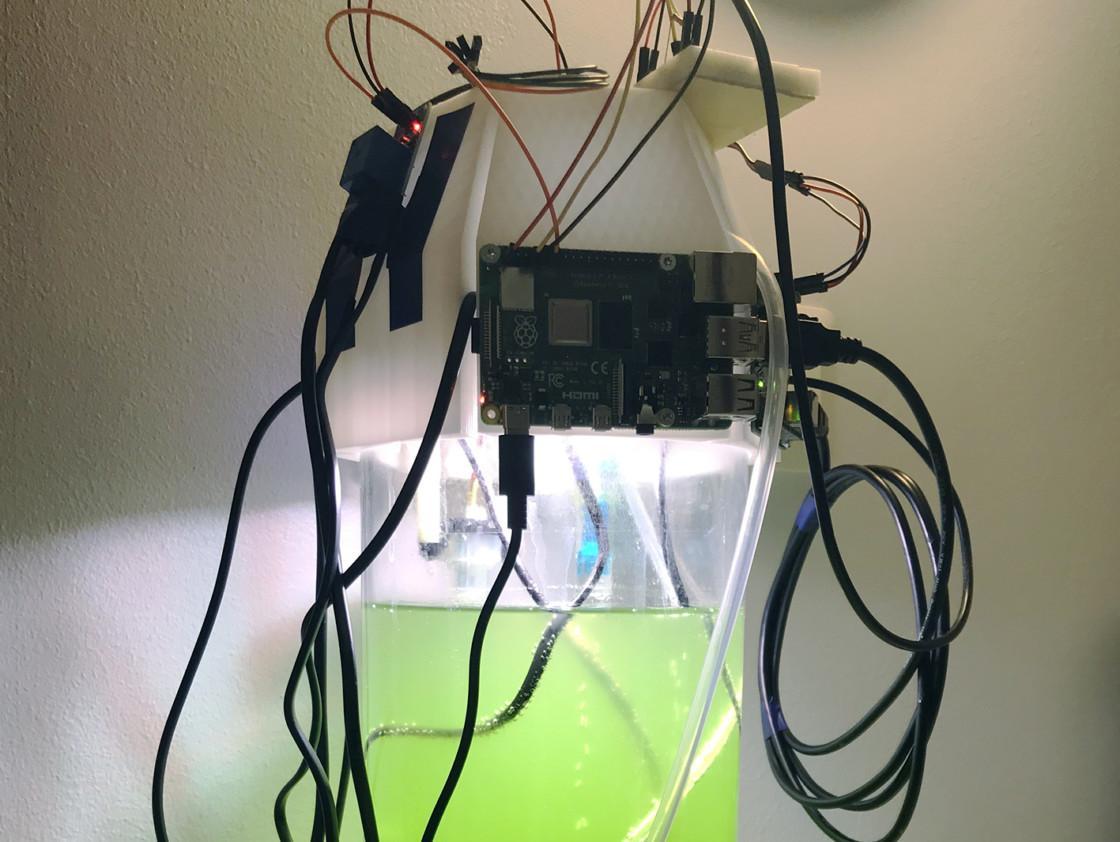 The Cyano Automaton website displays, in an intrepid style and with scientific accuracy, graphs and numbers of the reactor's temperature, turbidity, and air pump. It also provides visualizations of statistics on NASA's space exploration budgets; annual gold mining in terms of tons and profit, as well as the production of CO2 linked to these activities. A live stream of the reactor, sleek blueprints of its design, and an extensive description of the project are also part of the digital platform. The website is linked to Cyano Automaton's official Twitter account.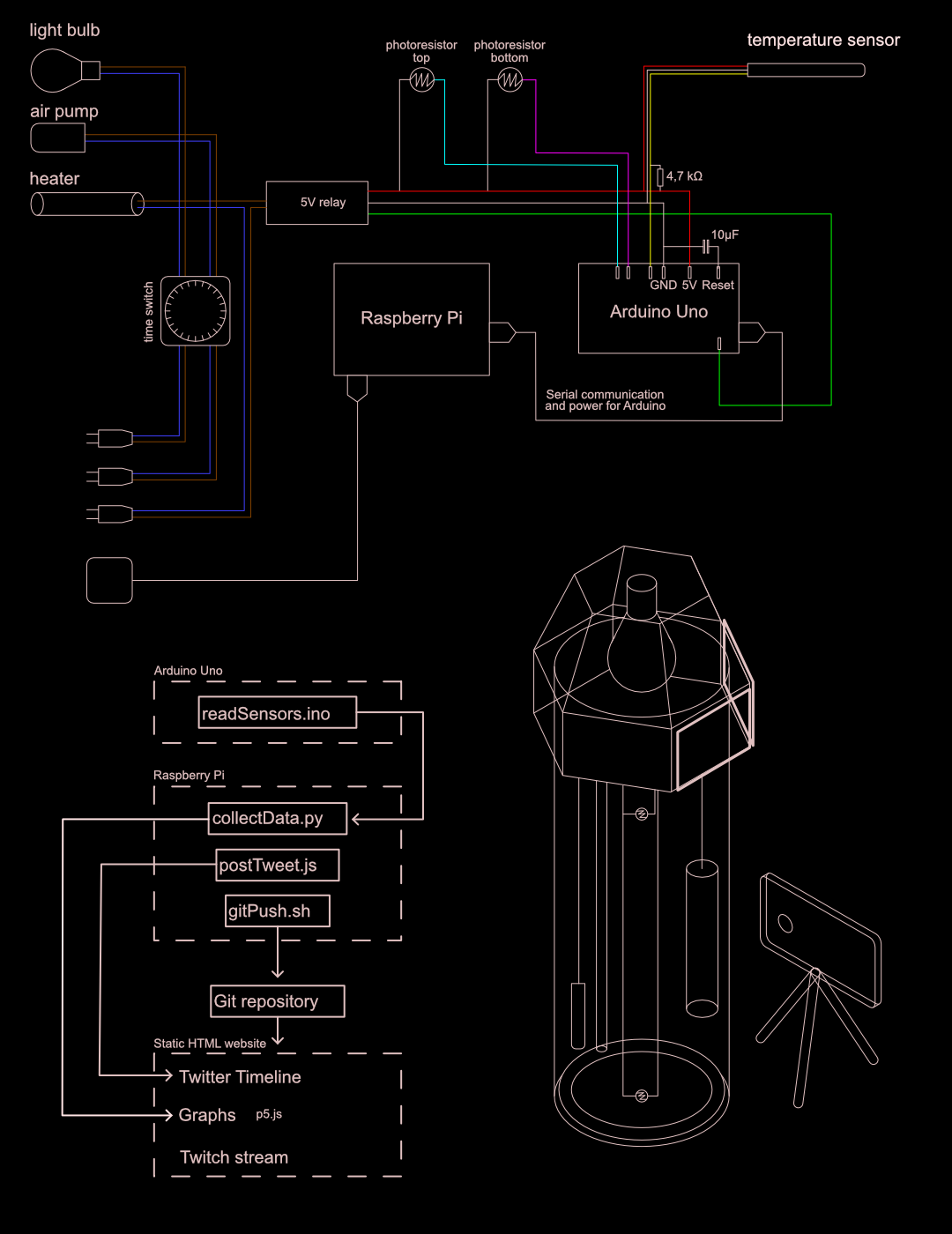 Mining has a strong relationship to colonialism. Colonizers saw the territories they occupied as places they could use without any consideration for long-term consequences, exploiting local populations and natural resources. In many cases, it continues until nowadays. Gold, the symbol of wealth and status, has probably been one of the most sought-after minerals ever. Colonial gold enriched European powers and funded the slave trade. Gold is scarce and that makes it valuable, and extracting it damages the environment by producing excessive carbon dioxide. Its overexploitation, here on Earth, has raised speculations to look for it on other planets.
"Gold means economic value, and each year, a percentage of the gold mined worldwide is spent on space exploration. Sending rockets to outer space may give hopes for an interplanetary future, for some, but it's damaging our planet now, for all."
– Agnieszka Pokrywka (2021)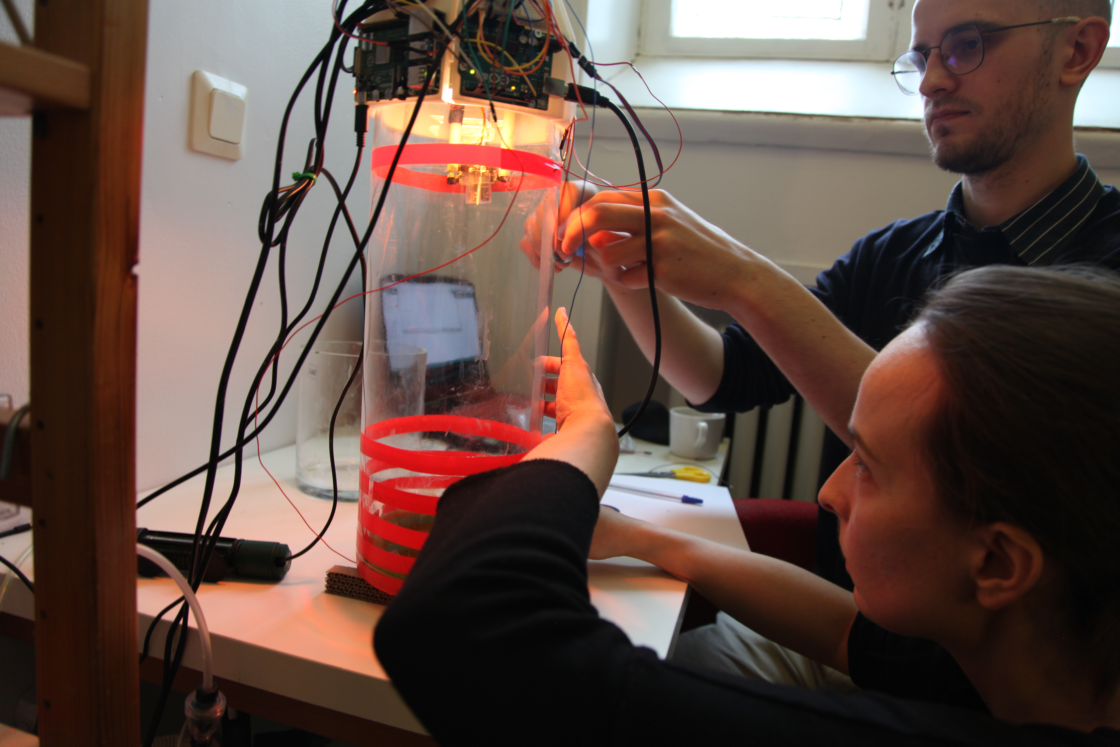 Inspired by the complicated history of microscopic cyanobacteria beings, the Cyano Automaton seeks to find connections between different scales of colonization: bacterial, terrestrial, and interplanetary. Together with cyanobacteria as protagonists and narrators of this story, the project knits a critical narrative about ongoing eco-social exploitation and conquest. In the end, whether it be on Mars or here on Earth, the mechanisms of colonization are strikingly similar.
"There is no way to explain our current ecological catastrophe without looking at past and present colonization practices."
– Agnieszka Pokrywka (2021)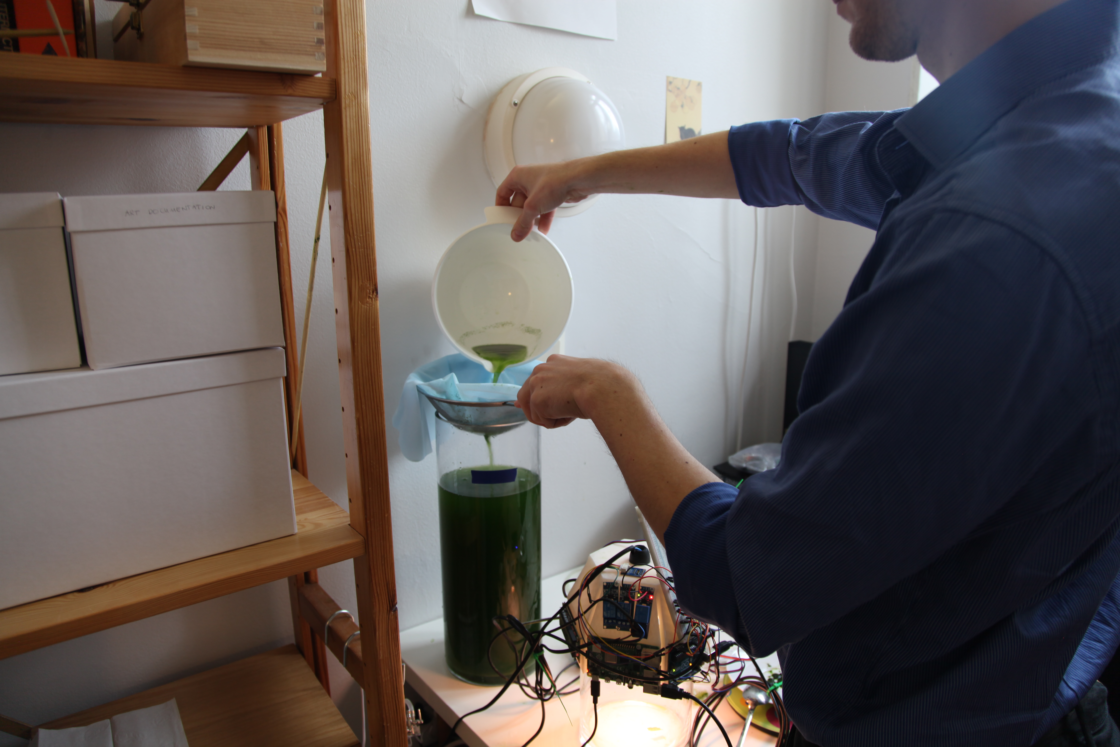 The Cyano Automaton project was publicly showcased at the Uroboros 2021 festival during the CreaTures Feral track as a co-creative workshop. Participants made their own experimental spirulina-based space food, following an experimental recipe and listening to stories of colonisation. Each step of the recipe performed together with the participants became the background for a critical discussion on terrestrial and interplanetary colonisation, of which cyanobacteria – as the first photosynthetic organisms on the planet – have been key players. Interaction with the Cyano Automaton remains available in the long term, via its website and Twitter profile.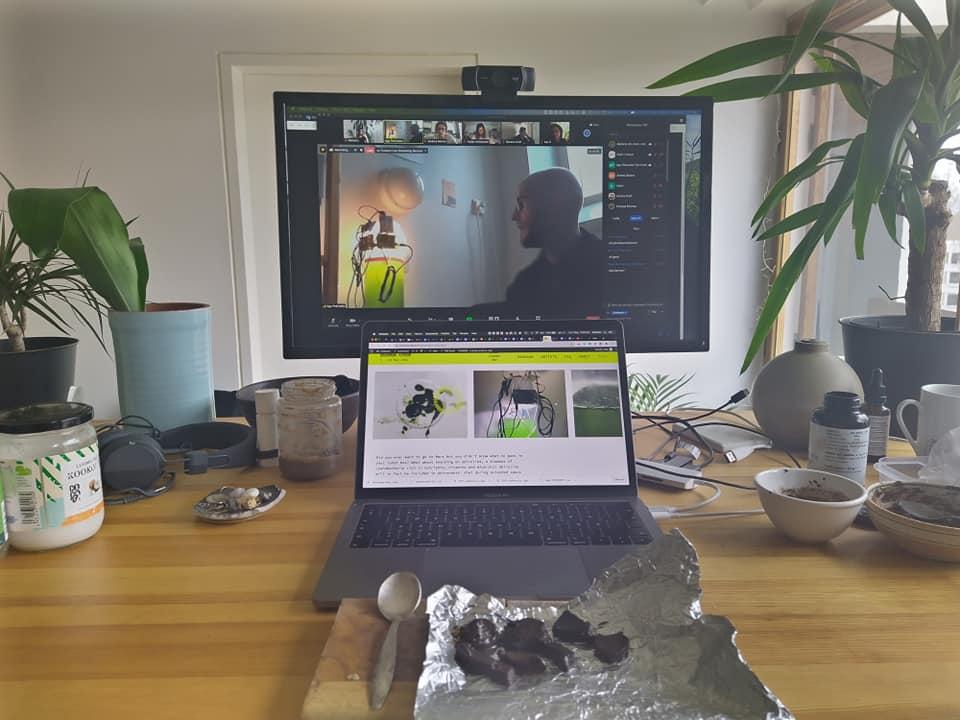 In January 2022, Agnieszka Pokrywka and Cyano Automaton embarked on a mission and art residency at the Mars Desert Research Station in Utah desert, US. From September to October 2022, the Cyano Automaton vessel was presented at the Helsinki Design Week 2022 – Designs for Cooler Planet exhibition in Espoo, Finland as part of the CreaTures project showcase.
The Cyano Automaton project's documentation and its concept were compiled together in the form of a video.