The CreaTures Glossary is a radically open, fluid and changeable, interactive interface for giving meaning to a lexicon of terms related to creative practice and transformational change. It thinks of language as belonging to no one in particular and to everyone at the same time.
Reference works like dictionaries, glossaries, and thesauri usually give an elite group of experts the authority to assign meanings to words, even though language is a dynamic social thing. The CreaTures glossary meets language where it lives—in social situations.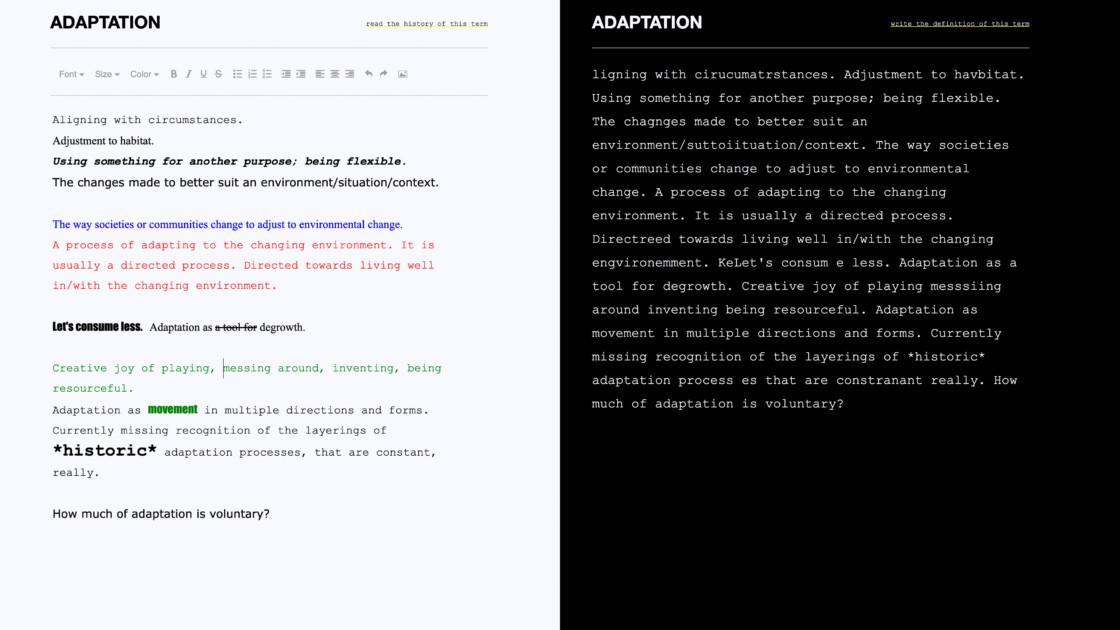 Through open source, real-time collaborative text editing and a hands-on public program, the CreaTures Glossary project facilitates language as a social practice. The project tries to give users access not just to use words in new ways, but also to be heard and understood while doing so. Anyone can participate, and there are several public invitations to do so.
The project aims to:
1. Give users access to create/edit/delete written definitions for a lexicon of terms linked to the CreaTures website. Once launched, the digital interface will remain open to everyone at all times and be ongoing.
2. Compile a knowledge base for users to learn about each term from different perspectives.
3. Invite people to contribute to the glossary during points of public engagement throughout the year (workshops, social media).
The first public interaction with the Glossary will be available during the CreaTures Feral track at the 2021 Uroboros festival.