by Nomad Garden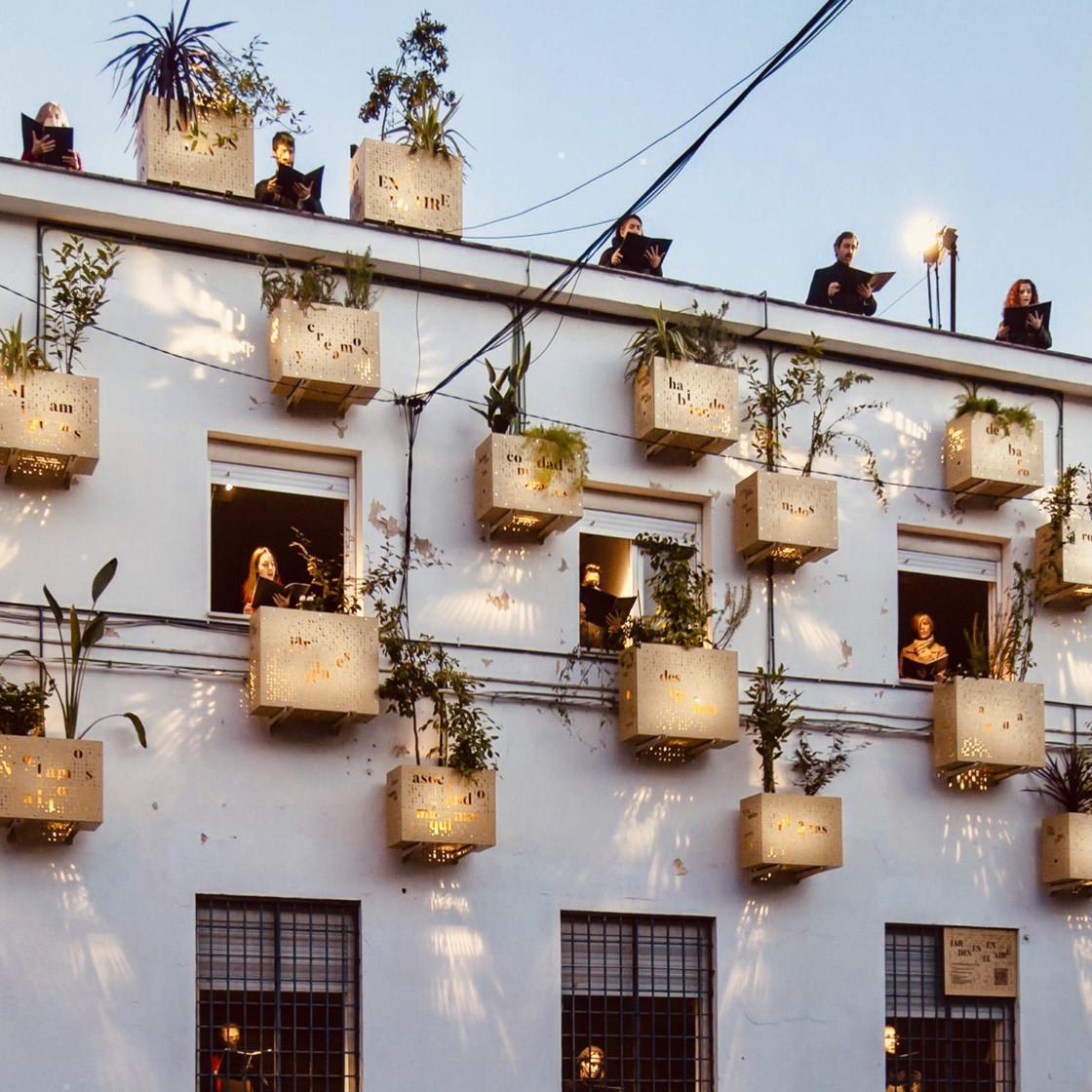 Gardens in the Air is a circular initiative of urban renaturalisation started in 2020 in the humble neighbourhood Tres Barrios-Amate, in Seville (Spain) that materializes in three interconnected works matured over a year of workshops, meetings and shared celebrations, with the aim of exploring the resources and species of the neighborhood to imagine new relationships that allow them to thrive in balance, generating a more sustainable habitat.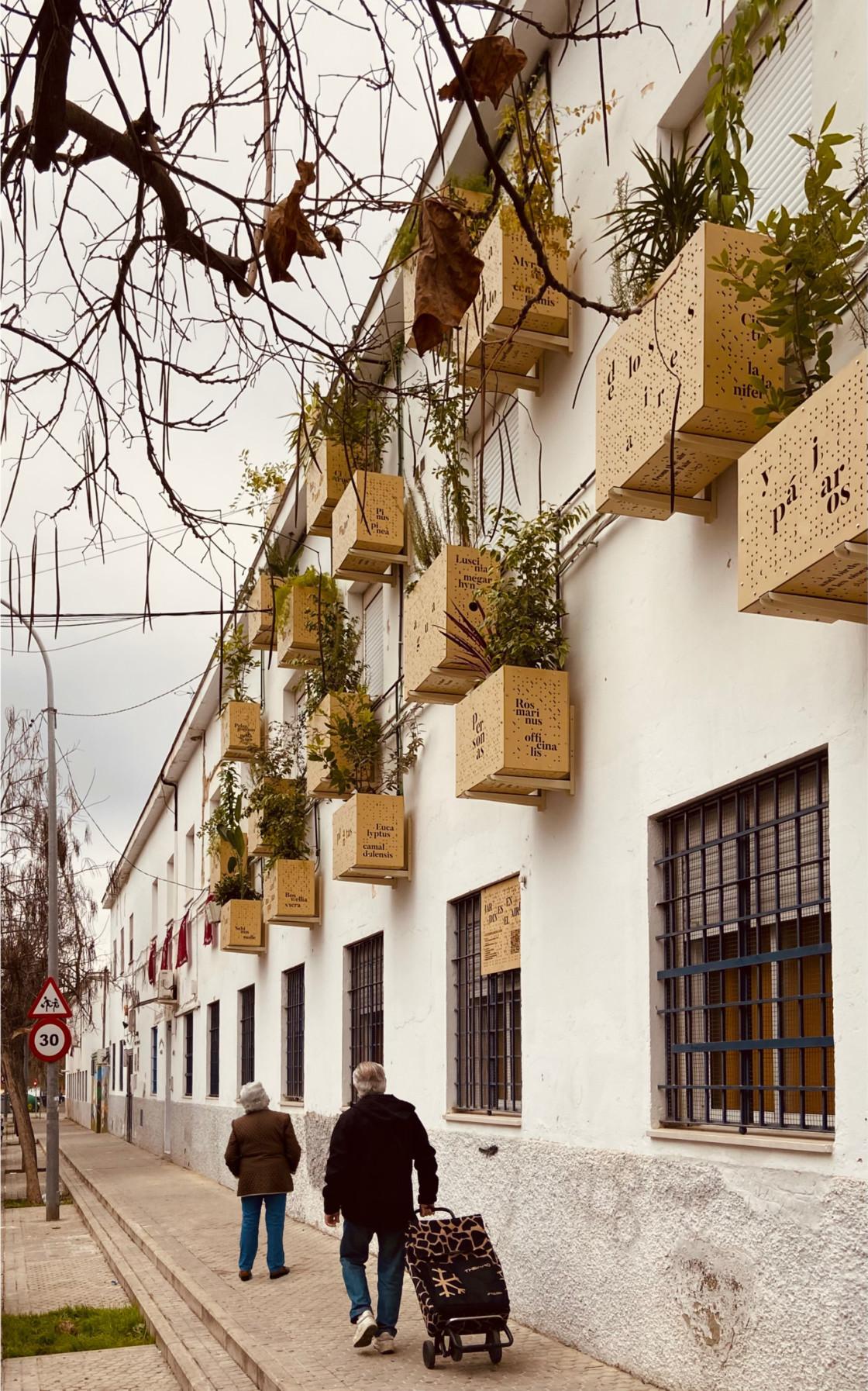 A vertical garden on a façade in Candelilla st. that reuses water from air conditioning machines to grow a garden and gives shelter to other living beings. A perfum made from a selection of the most representative plants of the neighbourhood, reflecting its diversity. A limited edition of 333 bottles made by the Parisian nose Barnabé Fillion.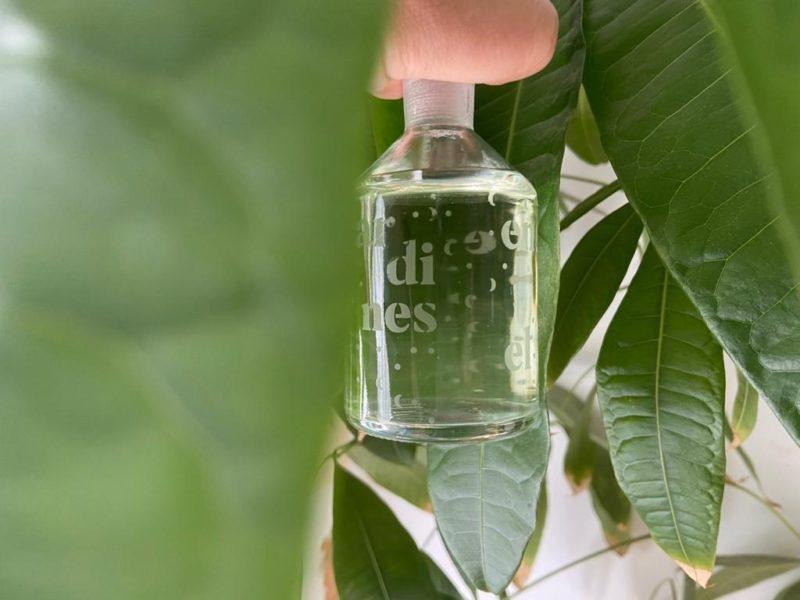 A polyphony created from the human and non-human voices of the neighbourhood, whose sounds inspired "Sinergias", under the direction of the composer Desirée Martín and the interpretation of Proyecto eLe. In addition, for Christmas 2021, a series of "chimeric fables" inspired by the non-human inhabitants of the garden were created. A collection of "Christmas stories" exclusively for the occasion have been written to be performed by the authors with the help of young people from AES Candelaria and performers from the city. Around the musicians and the fabulists, the light and the scent of 1,000 candles made with essences of the plants present in the stories, in the streets and also in the perfume created by Barnabé Fillion.
Website: https://jardinesenelaire.gardenatlas.net/
Credits
Gardens in the air – Neighbourhood lights 2020 (including Chimeric fables from Gardens in the air – Neighbourhood lights 2021) is a circular initiative of urban renaturation promoted by the ICAS, Ayuntamiento de Sevilla, Ecosistema 41. Project awarded with a New European Bauhaus Prize (European Commision), S+T+Arts (Nesta Italia), COAS and HCDA Honorable Mention. With the support of Universidad Internacional de Andalucía, Thermo Fisher Scientific, Cátedra EMVISESA-ETSAS, Institut Français d'Espagne and the collaboration of AES Candelaria, SAFA Blanca Paloma, Parroquia de Nuestra Señora de la Candelaria, Plataforma de Tres Barrios Amate, ISA, AEDI. Student workshop participants: Adam, Ainhoa, Alison, Álex, Ángela, Carlos, Daniela, Dina, Donald, Javi, Juan, Juanse, Julio, Manuel, Mari Reyes, Paula, Saber, Verónica and team of the AES Candelaria. Participants in parent workshops: Ángela, Clotilde, Cristina, Margarita, Rachida, Rocío, Verónica. Digital fabrication Museographia – Graphic design Estudio Pätē – Carpentry Iván Vega – Robotisation Arduino Pablo Pujol – Data visualisation t/ejido – Structures Nacho Quijano – Vertical works Dalí – Design Laboratory T11 – Workshops Laboratory Bosque Anxanar and Grupo TAR – Perfume creation Barnabé Fillion – Candles Thibault Pradet – Oral stories Donna Haraway, Gilles Clément, Rosario Izquierdo, Remedios Zafra, Fernando Iwasaki, Rafael Cobos, Carmen Camacho, Bernard Yaméogo, Zemos 98 – Concert: Desirée Martín, ProyectoeLe, Sound workshops: Antropoloops, Vibra-to, Amigos del Parque Amate and Seobirdlife, Sound Manu Meñaca – Photography Manu Trillo – Video Javi Vila, Juanma Carmona – Communication Surnames – Production El Mandaito – Ideation and Direction Nomad Garden.