The CreaTures panel discussion "Managed or out of control? Bridging policy and creative perspectives on Nature" organised at the Festival of the New European Bauhaus brought together practitioners and thinkers from various backgrounds including art, design, planning, environmental & climate policy, cultural policy, grassroot organising and research to explore porous matters of ecological politics and more-than-human worlds 🍄💭. The panel forms the first event in our three-part series titled "From Policy to Feral Worlds – framings of Nature across Policy and Creative Practice".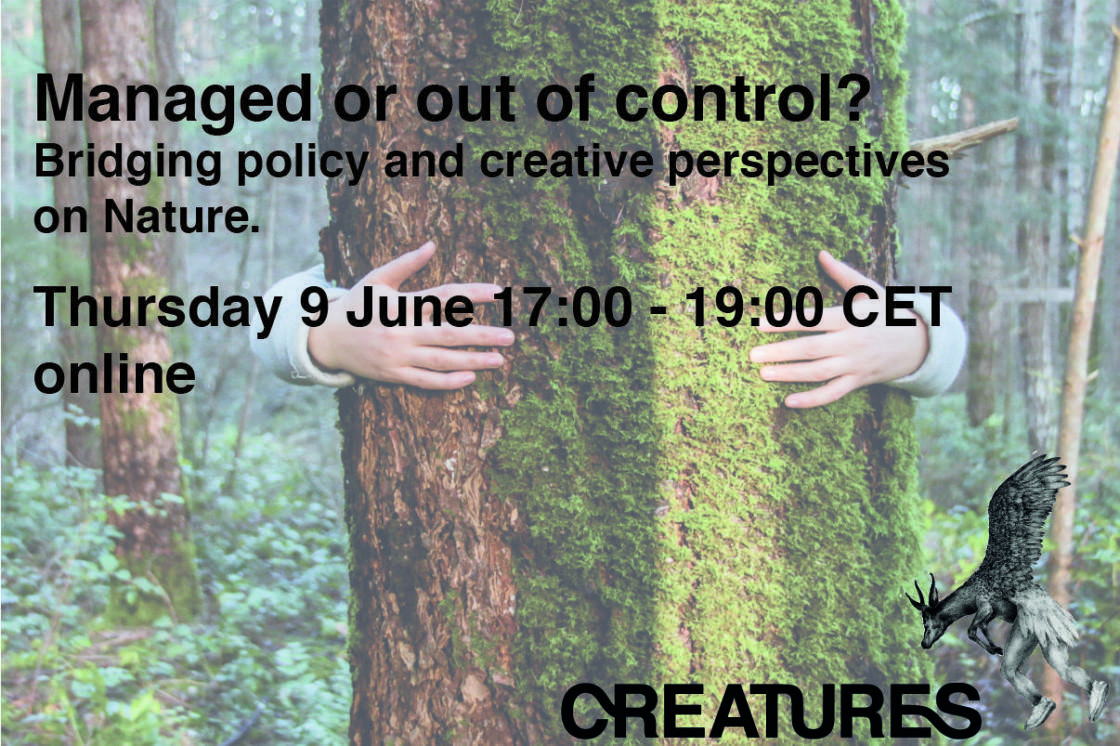 Climate collapse is forcing us all to rethink our practices, from our daily habits through to coordinated intergovernmental action. Yet to create a shared sense of urgency and motivation, we also need to establish integrative approaches to transform how we live together on the planet, which in turn depend on our cultures, value systems and world views.
While policymakers on all levels of government talk about natural resources management, ecosystem services as well as land use planning and biodiversity conservation, creative practitioners and social scientists use terms such as more-than-human, nature-cultures and feral.
This panel brought together both groups to provide a space to rethink relationships between humans and the other species and ecosystems on our shared planet.
Panelists reflected on how moving away from anthropocentric thinking and understanding nature as "out there" can change the way institutions work and what policies are made. Possible leverage points and spaces for translating feral and more-than-human thinking into action were also explored: parliamentary processes, national & regional governmental processes; organisational policies, strategies and plans.
The panel was be moderated by Ann Light, Professor of Design & Creative Technology (Engineering and Design) School of Engineering and Informatics, University of Sussex, who also introduced the CreaTures project and ongoing work on the transformative potential of creative practice.
Watch the event recording here (link coming soon)
---
Speakers:
Clive Mitchell, Strategic Resource Manager, NatureScot

Clive Mitchell is a Strategic Resource Manager, allocating resources for Nature and Climate Change at NatureScot. He's an advisor to WWF (Scotland), member of the steering group for the Sustainable Scotland Network and is an Honorary Fellow of the Royal Scottish Geographical Society.
Eleanor Pratt, Climate Resilience Coordinator, Sniffer

Eleanor works for the sustainability charity Sniffer, helping communities, organisations and businesses to transform in the face of climate change, to enable a flourishing, fairer future for all. Eleanor is a natural collaborator and enjoys bringing organisations and people together to find solutions to environmental challenges. With a background in environmental policy, regulation and accreditation, she loves facilitating change by working with a wide variety of people to help develop processes which build trust, and find solutions which are owned by those involved in delivering them. She is also a nature connection facilitator, and volunteers helping to deliver programmes for children and young people to have positive outdoor experiences and find their place as part of nature. Her wider interests include listening to oddly-shaped music and being in, on or near water.
Klaas Kuitenbrouwer, Senior Researcher Het Nieuwe Instituut

Klaas Kuitenbrouwer is senior researcher at Het Nieuwe Instituut in Rotterdam and teaches theory at the Gerrit Rietveld and other academies. A consistent element in his work is the intersection of different knowledge practices: technological, artistic, legal, organisational, scientific and more-than-human.
Astrid Mangnus, Researcher Netherlands Institute for Social Research

Astrid Mangnus is a researcher at the Netherlands Institute for Social Research (SCP), in the department of government perspectives, citizen perspectives and behaviour. She holds a PhD from Utrecht University, where she studied the role that creative and experimental futures practices can play in realising urban sustainability transformations.
Michal Mitro, Artist

Michal Mitro is an artist and a researcher working across the fields of disciplines and media. Trained in psychology and sociology, he focuses on the nuances of everyday life as well as hyperobjects of planetary scale. In his artistic practice he translates his sociological imagination into crafted sculptural environments with elements of sound, light or electricity.
Markéta Dolejšová, Post-doctoral researcher, Aalto University

Markéta Dolejšová is a design researcher experimenting with embodied, relational ways of knowing and doing, often in multi-species settings. She currently serves as a postdoctoral research fellow in the CreaTures project; Aalto University and co-leads creative and research activities at the Uroboros festival and the Feeding Food Futures collective.
Phil Tovey, Head of Futures. Chief Scientific Advisors Office, Department for Environment, Food and Rural Affairs

Phil Tovey leads the Defra futures team in providing strategic foresight in support of the UK's environmental, food and rural systems through a combination of Global Catastrophic Risk analysis, futures narrative assessment, mapping non-linear Social Ecological System change and other speculative futures approaches