Introduction
With many overlapping social and ecological crises, we urgently need to transform how we live together on this planet. Artists, designers and social change-makers have been developing alternative forms of eco-social thought and action rooted in 'multi-species', 'more-than-human', and 'feral' modes of co-existence. How can these creative practitioners connect fruitfully with policy-makers, who work with related ideas around 'natural resource management', 'ecosystems services' or 'biodiversity conservation'?
In October 2022 the CreaTures project bought together stakeholders and practitioners from both creative and policy fields to ask: how can creative practitioners and policy-makers work together for multi-species governance? 
A panel of four creative practitioners shared experiences of cross-sector working and explored the value of creative practices in opening up public dialogue and developing policy around environmental governance for the benefit of all species.  The hybrid session was part of the Uroboros Festival in Prague (exploring creative pathways to eco-social transformation). 
Summary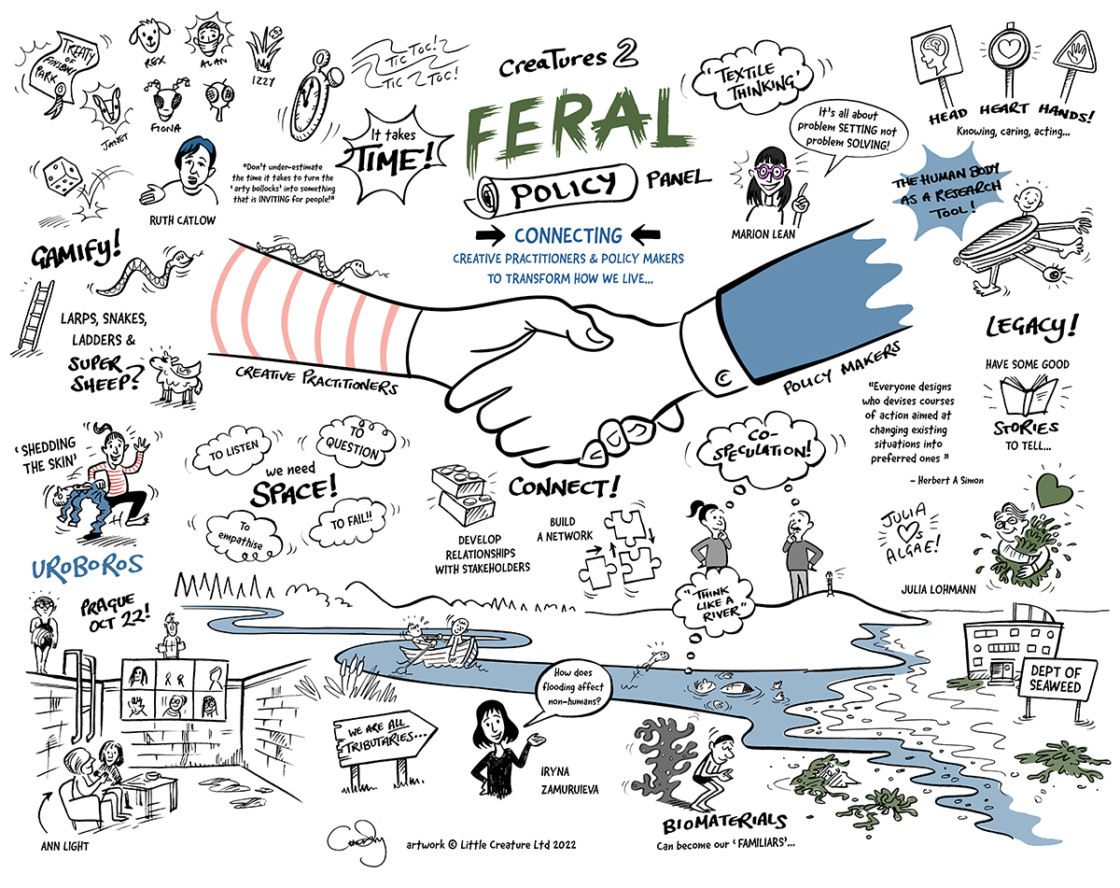 The four contributors offered a fascinating range of practices for bringing the more than human into the policy conversation. Iryna Zamuruieva presented artist-led workshops in which experiencing and responding to videoed river journeys encouraged policy makers to think from the perspective of a river, exploring a non-anthropocentric understanding of flood risk management. Ruth Catlow described how LARPs (Live Action Role Play) enabled users and managers to experience the perspective of the non-human inhabitants of a local park. Julia Lohmann showed how exploring algae both as a biomaterial and an organism in its own right engaged senses and emotions beyond material process design. Marion Lean described how gamification enabled policy makers to explore scenarios and impacts in a narrative form.
Across these diverse projects there were identifiable commonalities in approach.
Opening up spaces to consider different futures was a recurring theme, through shared processes of imagination, pre-figuration or speculation. The fact that these processes were done collectively enabled understanding of, and incorporation of, wider perspectives.
Processes of design were used to explore how a current situation could be changed to a preferred situation. what that preferred situation might be and for whom – both human and 'more than human'.
Engaging actively with the 'more than human' raised questions around what and who is forefronted in such discussions – opening up a 'multi-species' perspective. At the same time, decentering the human, prompted questions of equity and social justice within the human realm and explorations of the rights of the individual versus the rights of community. The inclusion of non-human presence helped engage participants in experiences which were tactile, sensory, emotional – bringing different perspectives and modes of thinking.
Activities offered connection to head, heart and hands (described by one practitioner as knowing, caring, acting with creative practices serving as 'flux' between these states).
Experimentation was key – supporting participants to move away from formal policy spaces (characterized by responsibility, delivery and deadlines) and encouraging questioning, exploration, imagination and failure. Projects offered a safe space for creative thinking, permission to play and encouraged a sense of agency – underpinned by the belief that everyone has innate creativity, a valuable contribution to make and a role to play.
There was recognition of the intrinsic value of the processes involved. Ensuring good process is often as important as attempting to seek definitive answers to what are often multi-layered and challenging questions.
There was particular impact from activity that built connections and was rooted in place. Working with and supporting existing local connectors and making the effort to involve as many people as possible who have a stake in the process and outcome of change.
A common theme was the vital importance of allowing time for this work. In order to build relationships and trust, allow for deeper connection and reflection and ultimately create more powerful impact. Projects started from a place of shared values and made those values explicit in the process. As one panelist observed – 'don't underestimate the time it takes to translate the 'arty bollocks' into something that is inviting for many people and makes them feel at home'
Panelists explored ways to achieve longevity of impact when programmes like this are often limited by short term funding.  These included empowering participants to feel confident in their experience of new ways of thinking to support them applying these in ongoing practice.   Seeking out and working with people who are energized to take the ideas forward and repeating activities over time allowed for reconnection with the ideas and practices. 
In Conclusion
In her closing remarks, panel moderator Ann Light observed that whilst this Feral panel was taking place, in a swimming pool at an arts festival, elsewhere in Prague the inaugural meeting of the European Political Community Summit was being held. The question hanging in the room as the session closed – how can we bring these worlds together in future?
Panelists:
Marion Lean (SCT/UK) –is a Scottish design researcher based in London. The focus of her research is improving choice and empowerment through real-world research, storytelling and collaboration, within different cultural settings and with different species. Marion is currently a Design Coach and Innovation Fellow, Centre for Digital Citizens, Newcastle University. She was based at Building Digital UK and laid the foundations for a Policy Design Lab at the Department for Digital, Culture, Media and Sport.
Julia Lohmann (DE/FI) – is a Professor of Contemporary Design Practices at Aalto University and the founder of the Department of Seaweed, a transdisciplinary community of practice investigating the potential of macro algae as a design material. She uses her artistic practice as research through design to explore the ethical and material value systems underlying our relationship with flora and fauna. She is a creative practitioner in CreaTures and a researcher in the Academy of Finland funded Biocolour research project on natural dyes, and in the Nordplus funded Nordark research project that investigates non-human needs in relation to after-dark outdoor lighting.
Ruth Catlow (UK) –is a recovering web utopian and a creative practitioners in CreaTures. As artistic director and co-founder of Furtherfield London's longest-running (de)centre for art and technology, she curates and creates collaborative, playful and emancipatory artworks to engage people across silos around emerging technologies and the wicked social and political problems they give rise to or intensify.
Iryna Zamuruieva (UA/SCT) – makes images, writes, walks, organises and performs. Originally from the middle of the Ukrainian steppe, Iryna now lives by the North Sea coast in Scotland, working with sustainability organisation Sniffer, a partner in CreaTures, on transforming organisations and places to flourish in the future climate. This involves leading climate change adaptation projects (with Adaptation Scotland) and creating structures for collaborative, care-ful and non-hierarchical decision-making. In her independent practice Iryna explores multispecies relations from pigs and viruses to natures to walking and steppes & ecofeminism.
Co-moderators and respondents:
Lara Houston (UK)
Ann Light (UK/SE)
Markéta Dolejšová (CZ/FI)