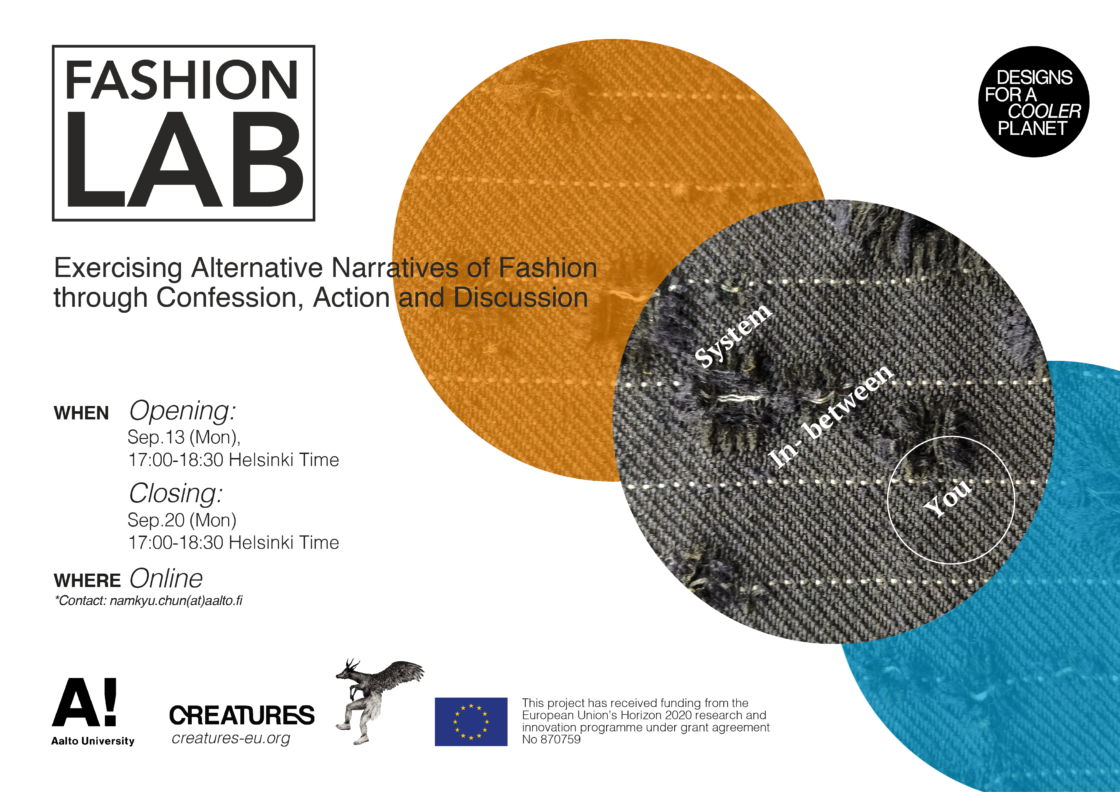 The fashion system causes and carries a number of complex issues, beyond sustainability matters. Yet, the market-driven discussion overshadows alternative narratives. Different narratives, as ideas, actions and perspectives, would contribute to change the way these issues are created and addressed. Fashion Lab intends to expand the voice of the alternatives by inviting diverse actors–anyone who make, sell, buy, wear, and throw away clothes–to come up with new narratives of becoming and living with fashion.
Join us two-day event in which you are invited to reflect on ​experiences and relationships with fashion, and to collaboratively speculate alternative narratives for individuals and communities.
Opening session: Mon. 13th September, 17-18.30 EEST
Closing session: Mon. 20th September, 17-18.30 EEST

Where: Online (see the link)
*Participation is open to everyone but registration is required. To join, please fill in your details in the registration form and we will email you the link. REGISTRATION FORM: LINK
*The opening day participants will be asked to return to the closing day. More info will be presented at the opening. 
*The events will be recorded for archiving and research purposes; by joining the session you consent to the recording. Please read the Participation Information Sheet and Privacy Notice.
*This event is organized as part of Creative Practices for Transformational Futures (CreaTures) project. CreaTures project has received funding from the European Union's Horizon 2020 research and innovation programme under grant agreement No 870759. The content presented represents the views of the organizers, and the European Commission has no liability in respect of the content.
*The event is also part of Aalto University's Designs for a Cooler Planet / Helsinki Design Week 2021.